Totally Awesome Tuesdays
Tuesdays are one of my favorite days.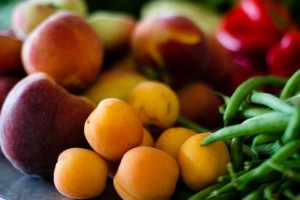 Tuesday mornings I pick up my CSA produce box and my raw milk. After I get my produce box I lovingly lay it out on my table and take a million pictures from every angle as if I have never seen a piece of fruit before plan my menu for the week based on what's in the box and what I already have in my cupboards and freezer.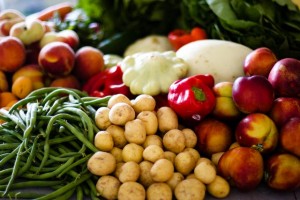 Maple grilled stone fruit and chicken? Squash casserole?  Fajitas with apricots? A roast with carrots and potatoes? I have lots of ideas floating around in my head inspired by this week's box.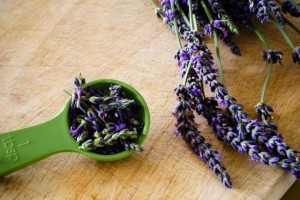 Last week we got lavender and I made lavender mushroom chicken.  It was…umm…different.  Not necessarily bad but it did sort of taste like it might have been marinated in bodywash.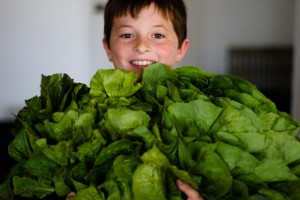 I also suspect a lot of salads this week.
One Tuesday evening a month, I go wait in my car in a neighborhood for a semi-truck to arrive from Oregon. Then we (the truck doesn't just come for me) unload and disperse everyone's orders of raw cheeses, yogurts, produce, 25 lb bags of grains, beans, coconut oil and who knows what else.  The truck is from Azure Standard and I highly recommend checking them out.  If you live in their delivery area it's a great way to save on high quality food.
Tuesdays, I'm also going to start going to the leadership class at taekwondo so I can play with swords.  (I meant to go tonight a certain 8 year old and I had a special date.)
Yeah, Tuesdays are pretty rad.
Tuesdays make me totally happy.
Veggies, fruits, raw milk and swords. What could be better!
Next week, I'm going to start a "How to I make" series.  I save a lot of money and get a lot of nourishment from making things like chicken broth, whey, beans, dried fruit, and kombucha.  And it really doesn't take all that much time just a little planning.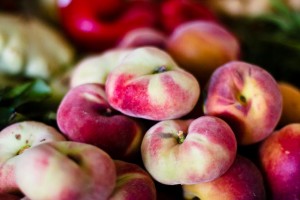 Oh and does anyone know what this variety of peach is called?  I call them "squatty peaches" but I'm sure they must have a more flattering name.  Have you ever had one? They are SOOOO good and they have that wonderful peach skin!  Oh yes, I love the texture of fuzzy peach skin.  People who peel peaches are crazy.
Hugs and High Fives,
Jenn
If you enjoyed this post please Subscribe to the RSS Feed.
Sign up to have posts emailed to your inbox.
Pin It