What shooting a short film taught me about fitness.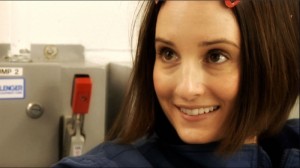 Hope you had a happy 4th of July weekend.  I have some fun news!  Our short film played in a local festival here in town.  Here is the trailer.[hana-flv-player video="http://sunnylifemovie.com/SunnyLifeTrailer.flv" width="450″ height="250″ description="Sunny Life Trailer" player="4″ autoload="true" autoplay="false" loop="false" autorewind="true" clickurl="http://sunnylifemovie.com" clicktarget="_blank" /]
We shot this about 3 years ago (before I lost over 20 pounds and with sort hair) in my hometown in Indiana and finally finished the final edit about 8 months ago.  What can I say, I take my time.
Everyone once in a while I like to watch it again even though I've seen it at least 30 times (not counting the hours spent editing).  I watch it over and over not because I think it's some great work of art.  It's far from that.  I watch it to remind myself of something that I so often forget.  Sunny Life reminds me I can follow through.  That I can commit to something.  That I can persevere.  That I can choose to manage my time well.  We all CAN. Writing and shooting a film, even a short film, is a big job.  Any creative endeavor is a BIG job.  It's sort of like getting fit.  You have a goal, a vision in your head, and every day you are faced with decisions to make choices that lead up to that goal.  You can write or paint or sew or _____ even when you don't "feel" like it or you can put it off for tomorrow and stay right where you are.  You can workout today and nourish your body today or you can put it off for tomorrow.  Or the next day.  Or the next.
In general, don't consider myself a very disciplined person.  Seeing our little film this weekend reminded that I can be if I want to be.  I also remind myself that for over two years, I've been consistent, not perfect, with my health and fitness goals.  Now it's time to channel some of that discipline I've learned into other areas of my life. I think my soul needs it.
I'm want to know about you.  What creative outlets do you have?  (I STRONGLY believe EVERYONE is creative whether they believe it or not.) Any good time management tips you could share?  Do you believe in consistency over perfection? How do you feel about "discipline"?  Does it energize or exasperate you?
Hugs and High Fives,
Jenn
If you enjoyed this post please Subscribe to the RSS Feed.
Sign up to have posts emailed to your inbox
Pin It