Fluffy Friday : "Reality TV Breeds New Body Ideals"
Title is from a headline on CNN.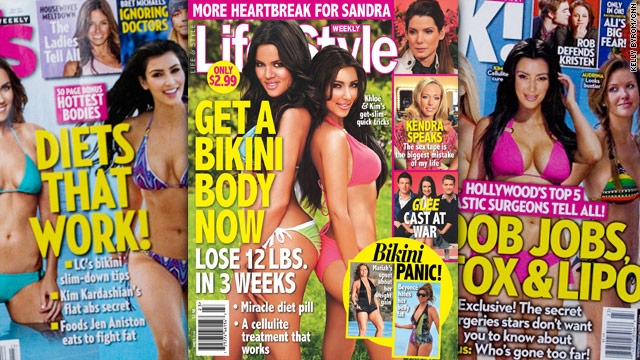 New body ideal?
Really?
Since when is slender (so they're not stick thin) with big breasts & full butts "new"?
Since the last Maxim cover?
(Don't even get me started on the above headlines.)
Admittedly, I've never watched the show.
I haven't had tv for over 10 years and I've chosen not too because I would be tempted to watch bs like this.
If our culture isn't telling us we are too fat
then they are telling us we are too skinny, too flat, too boxy, too short, too straight, too….
Enough.
If this is the "new ideal" I still only know a handful of women who fit it and it's not me.
What about the naturally very thin woman?
Gorge on Big Macs?
What about athletic women who put on muscle easily?
Quit working out?
What about the curvy on the bottom, flat on the top women?
Breast implants?
What about the curvy on the top, flat on the bottom women?
Butt implants?
What about the broad shouldered with narrow hips women?
Fat transfer to hips?
What about the straight waisted women?
Remove a  few ribs?
I could go on.  My point is #$%!@* ideals.
This obsession with "ideals" is NUTS.
You are beautiful with curves or not.  You are beautiful because you are YOU.
Take care of your body because it's YOURS.
We will make body image progress when we celebrate ALL body types not just the "fashion models" or the "hour glasses" or God knows what's next.
I'm not buying it.
I'm beautiful because I said so and so are YOU.
Moving on…
I wrote a guest post over on  Making Food and other Stuff.
Please go check it out.
Have an awesome weekend!
Hugs and High Fives,
Jenn
If you enjoyed this this post please Subscribe to the RSS Feed.
Sign up to have posts emailed to your inbox.
Pin It