Move It Monday : Chilling with Kettlebells
I know being sore is necessarily indicative of a good workout.  I don't care.  I like being sore.  In fact, I LOVE being sore and I have a feeling that I'll be sore tomorrow after today's workout.
I just did this workout this morning with my friend, Deb, aka, Smoothie Girl.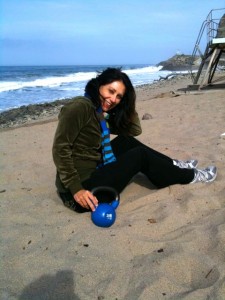 Isn't she cute.  If you didn't read her GH interview last week, you won't want to miss it.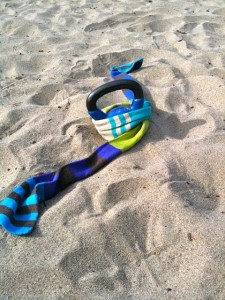 Her kettlebell was cold so she bundled it up.  Awwwwww.
I didn't time how long it took us to do this workout.  I'm guessing about 30 minutes.
Circuit 1 – Swing / Push Up Ladder
10 Swings
2 Push Ups
20 Swings
4 Push Ups
30 Swings
6 Push Ups
40 Swings
8 Push Ups
50 Swings
10 Push Ups
Repeat ladder 2x.  Don't have or feel comfortable with dumbbell swings?  While swings and squats are COMPLETELY DIFFERENT movements.  (Please don't swing like this.) Squats or or jump squats could be substituted for the swings.  Last week, I did a similar workout but with squats and I was sore for days!  Yeee-haw!!!
Circuit 2 –  Superset
Single Leg Deadlift – 10x each leg
High Pulls 10x each arm
Repeat superset 3x.
Circuit 3-  Superset
Single Leg Squats – 10x each leg
Renegade Rows – 10x alternating arms
Repeat superset 3x.
Bodybugg Review Update
I had some technical difficulties with my Bodybugg last week.  First my data wouldn't upload to the program and then my watch wouldn't synch correctly to the armband.  I emailed the Bodybugg tech support and they were very S.L.O.W.( took over 24 hours) to respond. Maybe I'm impatient but when I'm have a 6 month paid subscription every day it doesn't work correctly and I can't use it COUNTS.  It seems each time I emailed tech support my email went in a queue which resulted in having to repeat myself to numerous tech support people.  It was very difficult to discuss a problem with anyone because you can't email back and forth with the same person.  At one point they told me how to fix the problem using Internet Explorer when I clearly explained I was using Safari.  Ugh.  Regarding the watch issue they said a 5% difference was allowable.  That's fine but a 500 calorie difference is not just 5% when I burn a total of 2100 on a good day.  (Yes, I'm a slug.)  All said and done, tech support didn't help at all.   I ended up rebooting my armband and watch and after a few days the numbers were in synch again.  Not sure what happened but I did lose .5 pounds this week and it's working just fine now so we'll see.  I'm assuming it's like a cell phone or computer and needs to be reset every few days to work properly.  However, I don't regret my purchase so far.
I hope you had a great weekend.  Mine was wonderful.  I competed in a mini taekwondo tournament.  It was my first one.  I got first in forms and tied for 3rd in sparring out of four people.  I sort of freaked out when I was supposed to kick a stranger in the head.  Eeeeek!!!  The rest of the weekend was spent cuddling with my hubby on the couch and hanging out with the kiddos.  My idea of a perfect weekend!
Hugs and High Fives,
Jenn
If you enjoyed this this post please Subscribe to the RSS Feed.
Sign up to have posts emailed to your inbox.
Pin It