Fluffy Friday: Kitten de Confidence
I am not with it when it comes to popular culture.  For instance, I still make Paris Hilton references.  I know.
So it's no surprise that I was clueless when I signed up to take a burlesque dance class/workshop.  I love all things vintage and in my mind I was going to a retro inspired Jazzercise class.  I knew Dita Von Teese was a burlesque dancer.  I had seen pictures of Dita in Us Magazine wearing vintage outfits I only dream of wearing but I didn't really know what "burlesque" entailed.   Had I spent a few more minutes with my pal, google, I might not have wanted to cry been so surprised when I flipped through class syllabus and saw a page with two circles labeled  "Pastie Pattern"
You see, I'm the girl who ran out of the dressing room in tears at my first figure competition or nearly passed out when I was asked to pee in a cup in front of someone at my second competition.  I'll make a long story short.  I have issues.
Bunnie, one of the teachers, wasn't in the room for 2 minutes before she was changing into a pair sparkly pink panties and a matching bra that puts Barbie's clothing to shame despite…well…looking nothing like Barbie.  When the topic of "body image" came up, she said she knew she had "rolls" (Her words not mine.) but she didn't care.  It was true.  She did have "rolls".   Her tummy very visibly hung down over her panties and to be honest there were bumps and lumps coming out from every strap and seam.  She  definitely wasn't what came to mind when I thought of burlesque dancer but I also didn't think of pasties either.
After going over  how to choose the perfect burlesque name (Do NOT use words like kitty, kitten, or cherry….darn it.), making your own burlesque accessories and costumes, the type of glue to use to bling out a perfect pair of burlesque shoes and passing around pasties, it was our turn to stand up and find our "inner burlesque starlet".   I started to wish I had a magic cookie to make me shrink like Alice in Wonderland so I could hide inside my glove instead of "seduce" with it.  After learning how to pull our gloves off with our teeth and about 2o0 different ways to use our boas, (Who knew a feather boa was could be so versatile.) they said it was our turn to dance.  "You first!" we protested.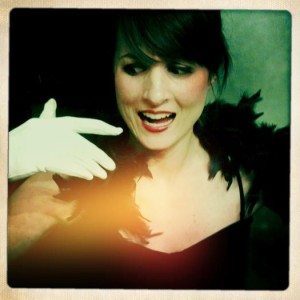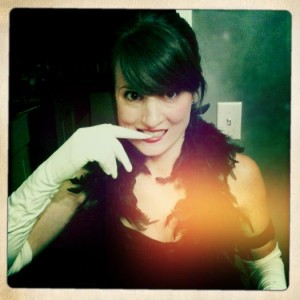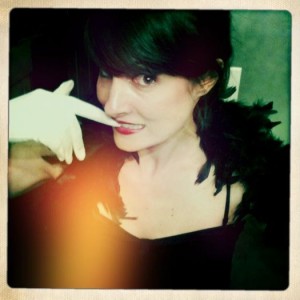 Bunnie turned on her music and began to strut her stuff and strut she did.  If she was self-conscious about her body you certainly couldn't tell it.  She shimmied, shook, and seduced as if she invented the word "confidence".   She clearly didn't give a damn that she wasn't in on Victoria's Secret (excuse the cheesy play on words).   Bunnie was having a blast and I thought about all the times I let my lack of self-confidence steal my joy at the beach or at the pool.  I may not have rolls but I'm still a long way off and will always be from "the ideal" and you know what, Bunnie made me feel like Victoria and her Secret can kiss…my glove.  Burlesque may not be for me but confidence is no matter the circumference of my waist, the size of my bra, or the number on the scale and I'm not going to let anyone tell me otherwise.
Confidence is mine when I embrace me as me.
Hugs and High Fives,
Jenn
If you enjoyed this this post please Subscribe to the RSS Feed.
Sign up to have posts emailed to your inbox.
Pin It