Fast as a Slug.
Update:  You can read my  FULL REVIEW of the Bodybugg V3 here!
I did something impulsive.
I emptied my sock drawer.  Not of socks but of the last of my birthday money.  I was planning on buying a pair of designer jeans.
Instead I got this.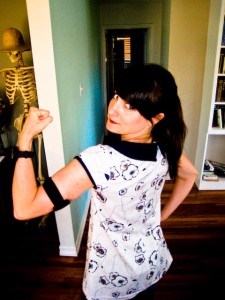 See the black thing on my arm.
That's my new Bodybugg V3 with the digital display.
(Mr. Bones is hanging out in the corner.  I'm not creepy. He is for our homeschool.)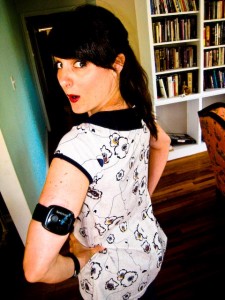 I get to be obsessive YIPPPPEEE!!!!!!
I'm only sort of being sarcastic.  I'm a very unstable creative type so making charts and counting helps me to feel like I have it together grounded.
It's even good for me. Ask my husband. Unlike a lot of people, I don't mind counting.  It works well….
…when I do it.
Since August I've put on 12 pounds.  I'm NOT unhappy with the way I look BUT I have my RKC certification coming up in August.  One of the requirement is I have to be able to pass the snatch test (100 snatches in 5 minutes or less) with the 12K (26lb) kettlebell.  If I don't meet the weight requirement I will have to test with the 16K (35lb) kettlebell.  If you have done kettlebells you know what a HUGE difference there is between the 12K and the 16K.  Fact of the matter is I won't be able to pass if I have to use the 16K.  No amount of positive thinking will give me strength that is just not there.  I mentioned all of this a few months ago but instead of losing I've been gaining.  I know why.  I knew before I got the Bodybugg. Where did my motivation go?  I dunno.
I needed some motivation.
I've only been wearing it for two days this is what I've learned so far.

I sit way too much.
I have the metabolism of a slug.
Not really. I have an average metabolism.  Problem is I am now spending much of my day sitting in front of the computer or on the couch.    I first noticed a gain in weight last year when I started homeschooling.  Why?  Because I was no longer running back and forth to school and rushing to get things done before they get home.  Instead I spend a good chunk of my day cuddled up with my kiddos on the couch reading.  Good for the soul and brain.
Not so much for the body.
The Bodybugg serves as a fun little reminder to clean my house take the stairs.  Amazing how much daily activity "adds up".
Truth be told, I've been wanting a Bodybugg V3 for a long time because I secretly hoped I wasn't eating enough despite eating my body weight in nut butter more and gaining.
Crazy, I know.
I have read 5 million reviews and there were a few people who discovered they weren't eating enough so they started eating more and lost weight.  I prayed that would be me even though all evidence told me otherwise.
One can hope.
What I'm really excited for are my plans to conduct "rogue experiments" and to write reviews for the world my readers about this fun little digital device oddly named the Bodybugg.
I also started a new food journal.  Accountability is key for me.  I'm going to be posting my meals everyday until I reach my goal.  I'm calling it "Operation Six Pack" although I should have called it "Dear God.  Please help.  I don't want to fail the RKC."
To be honest, I wouldn't mind rebirthing The Abbeys though.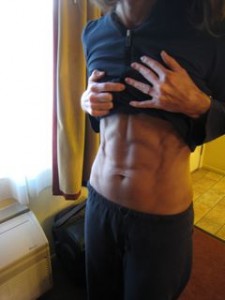 (That was so gratuitous.)
To all of you long time subscribers don't worry, you will not be getting pictures of apples and almonds in your inbox.  I created a whole new exciting blog just for that because we all know the internet needs more pictures of food.
Update:  You can read my  FULL REVIEW of the Bodybugg V3 here!
Hugs and High Fives,
Jenn
If you enjoyed this post you can follow one of three ways! 1. Subscribe to the RSS Feed 2. "like" Girl Heroes on Facebook, or 3. Sign up to have posts emailed to your inbox. Simple dimple!
Check out our family's adventures at New School Nomads as we take a year long RV road trip through the United States!
Pin It