Kisses and Kettlebells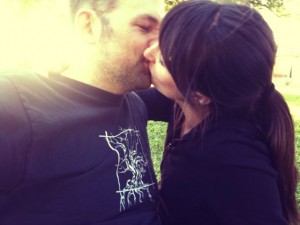 I was planning on finishing up Part 4 of my Climbing the Ladder Series:  (Tools to Keep Your Weekend Interesting) but while I love lists (that was one of my first and all time favorite posts btw) I'm just not "feeling" my scheduled post today.  Instead, I want to talk about the 10KChallenge I just completed and how much I love my husband.  Yes, they go hand in hand.
Like marriage the 10K swing challenge took work, persistence, and commitment.  Also, like marriage, there was pain, joy, frustration, and elation.  When I set out the to do the 10K Swing Challenge on April 1 (What a fool I was.  Stupid pun intended) I had it planned out.  Twenty five out of thirty days I would do 400 swings. Simple dimple.  Or so I thought.  Funny, thing is my life likes to throw curves balls at my plans.  Again like marriage.  While I'm happy as can be married to my soul mate, our life isn't the exact picture of "happily ever after" I imagined.   Like I learned the day we got engaged "shit happens".  It just does.  As it did in my 10K swing challenge.  There were some days I was just too tired (marriage anyone 😉 ), too busy, too sad, too lazy or too forgetful to get my swings in.  Then there were days I felt like a super hero and would easily  knock out 800 or more.
I really recommend setting "big smalls goals". That makes not sense but you know what I mean.  Or not.  In other words, a goal that is a big enough it feels really great to accomplish but it's not so large that it seems insurmotable.  It doesn't have to be swings either. If you do decided to do the swing challenge I definitely recommend you read this article by Lisa Shaffer who started the 10,000 swing challenge and here are a few tips from my experience.
– Go lighter than normal-
It's a lot of swinging
– Switch grips a lot-
(I would sometimes hook the bell handle with my finger and other times hook it in my palm.
– Set small goals-
I did this sequence A LOT:
50 two handed swings, 10 right handed, 10 left handed, 30 alternating.
(Makes the time go by faster and it's easier on the hands)
– This goes without saying but take a few rest days-
In the end my persistance paid off and I'm thrilled to say on Friday hubby and I had some time alone and what did we do?
Swings!!
I dragged him to the park to finish up the challenge with me.  What a fun (and cheap) date I am.  After Brent did a short workout he was bored he decided to document the rest of the event.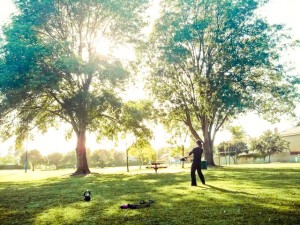 This is the coolest park.  There is a full size dirt track circling it with exercise stations along the way.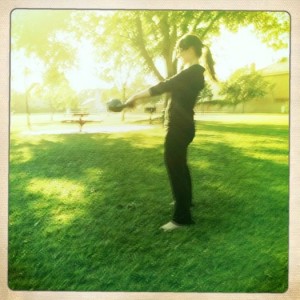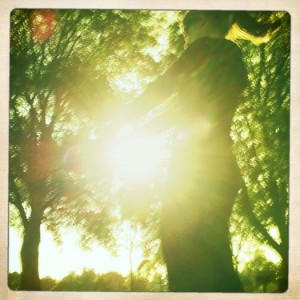 900 swings later.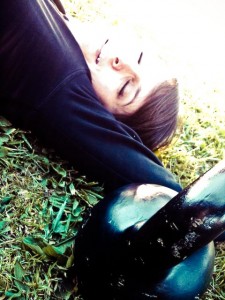 After I nearly killed myself we were done, for fun we did a mini photo session.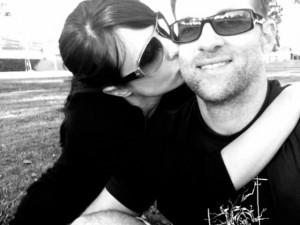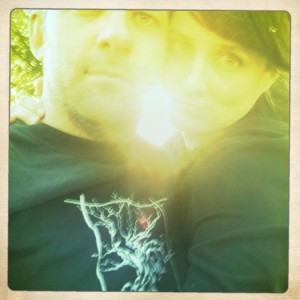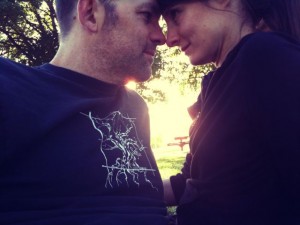 Um…how old are we?
Hugs and High Fives,
Jenn
Pin It