My Faithful Companion: Sugar Addiction
Maybe because it was my last stop for the day or maybe it was because I'm absent minded by nature but the other evening I found myself standing in the frozen food aisle of Trader Joe's utterly confused. I had stopped to pick up a few things for the next day's dinner. We were having friends over and I wanted it to be special. I had grabbed some lemons, an eggplant, and a potted basil plant that swayed when I pushed the cart.
Near the back corner of the store the demo station was winding down for the night but left on the counter in miniature paper cups were slices of dinner rolls. I parked my cart off to side and picked up one of the cups of white processed sweet wheat.
Devouring the bread sample, I grabbed my cart and headed toward the frozen food aisle to get a bag a frozen chicken when I looked down and saw this.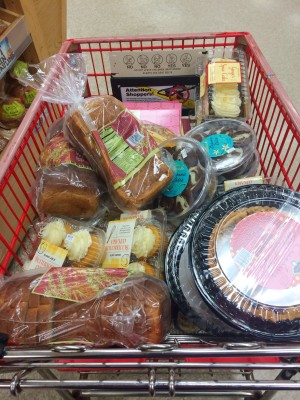 My cart was piled high with of loaves of bread, cupcakes, pies, and other sweets. Where was my eggplant and basil? Whose cart was this? Then it occurred to me that it may be mine. I seriously contemplated the possibility that I had absent-mindedly wandered through the store and subconsciously picked up all this carby goodness.
Crazy thoughts like this aren't really so crazy when you are up to your neck in sugar addiction.
I haven't been writing much here lately. Driving to Alaska, taking care of our new baby, keeping our two older homeschoolers on task are all part of my absence here but I've also been guzzling sugar like M&Ms are going to be discontinued tomorrow. Then to add to the fire or should I say "lack of" my workout schedule has all been but nonexistent.
I've gone back to the "dark days" of pre-2008 (<==my take on nutrition has also changed a bit since). The time when I hid outside my house and drank cups of maple syrup. The times when I would steal candy from my kids.
There is some light in the chocolatey darkness. I'm not depressed like I was seven years ago. I'm not happy about this struggle with sugar but I'm not dealing with a true depression and would never want to minimize those who struggle with clinical depression because I've been there and it's serious. Overall, more days than not, I feel pretty dang balanced and quite often downright peaceful.
But but but…there is this uncontrollable urge to consume sugar and my question is why?
Why?
WHY???
Is it emotional? Physiological? A combination?
A few weeks ago I kept a record of how I felt when I ate sugar and discovered…there was absolutely no pattern. None. I ate sugar when I was excited. I ate sugar when I was bored. I ate sugar when I was feeling aloof. I ate sugar when I was happy. I ate sugar when I wanted to procrastinate. I ate sugar when I was feeling peaceful. I ate sugar because it was a beautiful day and I wanted to add to my pleasure. I ate sugar because "it was there".
The last time I combatted my sugar addiction I gave up sweets  cold turkey on New Year's day 2008. During that time I "graduated" myself from "no sugar" to "homemade treats made with unrefined sugars". It worked beautifully and I rarely felt deprived until I was sabotaged by the Boy Scouts and then again by Halloween when I picked up my first piece of candy in nearly four years. It didn't take long for that bite sized piece of corn syrup to turn into an avalanche of sugar.
Before those M&Ms melt in your mouth and not in your hand, I was right back where I had started from four years before with one difference, I knew a lot more about sugar's effect on the body. Previously, I knew my childhood dentist warned against candy and I knew sugar wasn't helping me loose those extra pounds I was carrying but now I knew about insulin sensitivity, sugar's link to cancer and other diseases, and sugar has even been associated with premature aging. But even my vanity can't keep me out of the candy aisle.
Generally speaking I'm very grateful for my life and experience a great deal of happiness most days but I'm also tired. Tired of dealing with the constant cravings. Tired of the guilt that I put on myself for the sugar binges. Tired of worrying that I'm going to get cancer from all the sugar.
I really just want to be able to go to open a pint of ice cream and not eat the whole thing. I really want to be able to eat a few Hershey Kisses and not a whole bag. I really want to be able to keep my kid's Christmas candy  in the house and not think about it all day.
So that's where I'm at.
People who know me well know that I'm stubborn as hell determined. I'm determined to understand and overcome this addiction. It just may take me awhile and while that's not very inspiring, it's honest.
Sugar may have knocked me down but I'm not dead.
If you have any advice I'm all ears.
Hugs and High Fives,
Jenn
Check out our family's adventures at Newschool Nomads as we travel in our RV through the United States!
If you enjoyed this post you can follow one of three ways! 1. Subscribe to the RSS Feed 2. "like" on Facebook, or 3.  Sign up to have posts emailed to your inbox. Simple dimple!
Pin It