Fitness, Friends, and Fun on Antelope Island
I have one thing to say about last week.
Amazing.
We stayed on Antelope Island in the Great Salt Lake. Our friends who we met up with in Provo the week before, the ones we spent the winter with in Breckenridge, came with us. Not only that but my longtime internet friend, Janetha, who I met on a fitness forum before we both had blogs came for dinner.
Rather than tell you about my week, I'm going to show you. At least I'm going to show you the fitness-y parts. I do a lot more than exercise.

I'll save the details on bison, floating in the Great Salt Lake, and jackrabbits with ears as long as my arm for my adventure blog.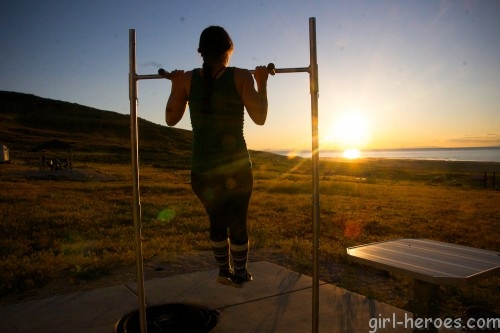 Our campsite was incredible. It was large and open and faced the Great Salt Lake making for the most stunning sunset workouts.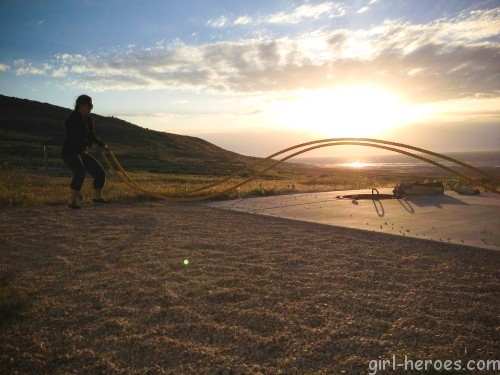 I did a few strength workouts and pulled out my heavy rope for the first time since last fall.

I've gotten so strong that I broke my rope into pieces. He he. (If you look closely- I know the photo is kinda small – you can see how the panorama app composited the rope into pieces.)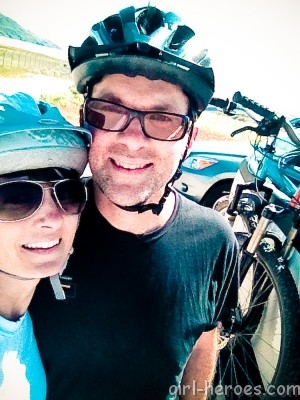 Brent and I also slipped away for a bike ride.
We started off on this trail which got progressively more rocky, so much so that we were walking and hauling our bikes over rocks more than we were riding. Biking is hard for me especially through rocks. I get really scared especially since my little brother almost died from a bike accident when I was a kid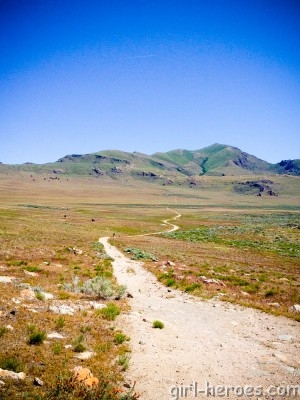 So we found an easier trail. Much easier for me because while Brent went to the top of that moutain I sat on the side of the road.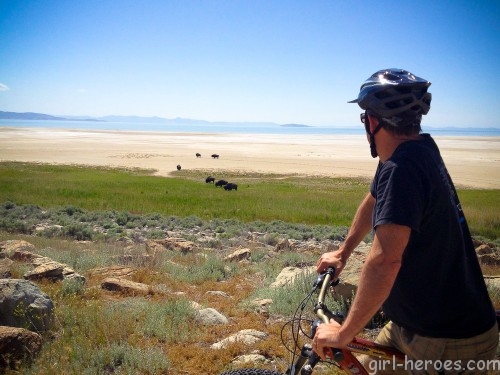 We passed a heard of bison on the beach.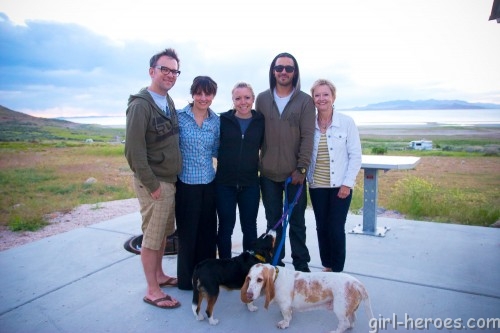 To add to an already beautiful week Janetha came to visit along with Marshall, the pups, and Momma B. I had actually met Janetha once before briefly before we left when she came to LA. Our meeting in LA was a short visit and their were a lot of people. I'm an introvert and prefer small groups so this was perfect.
I've met a lot of bloggers in person. Most of the time they are as nice in person as they are on their blog. Janetha is no exception. She is every bit as sweet in person as she is online and then some. As are Marshall and Momma B, who I've also known and interacted with online for a number of years. I actually did a Girl Heroes feature with Janetha and Momma B a few years ago. Not only is their transformation inspiring but so is their friendship. Wonderful wonderful people.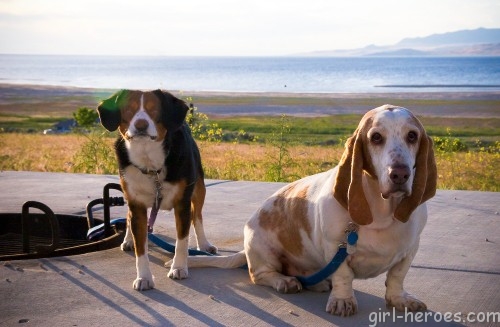 I was thrilled when she said they would bring the dogs.
I was secretly planning to kidnap Penny but once I met Randy (the basset) I  decided I had to have them both but couldn't figure how to keep them without Janetha and Marshall noticing. 😉 These two were ridiculously sweet and well behaved. They hung out with us inside our RV until 11 pm! Janetha and Marshall told us the funniest stories about Randy  honking the horn and getting into food. Ornery fellow! My kind of dog!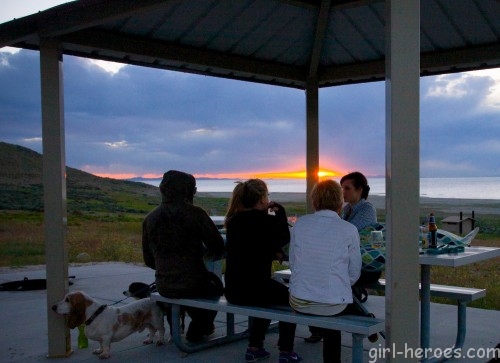 We also ate dinner while watching the sunset.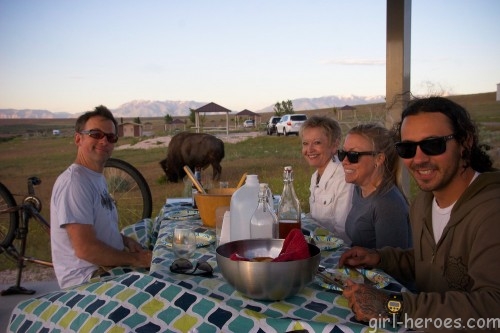 A bison even decided to cruise by while we were eating!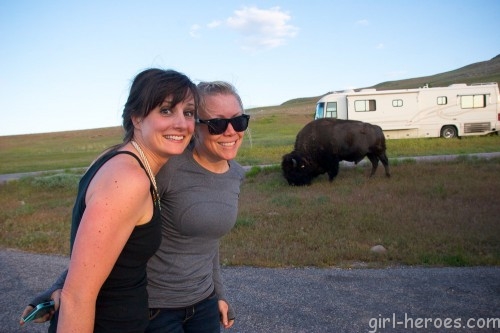 Thank you so much for visiting Janetha, Marshall, Momma B, Penny, and Randy. It was such a treat! In case you haven't read Janetha's blog (you probably have she has quite the following) it's called Meals and Moves. She wrote about our time together here.
Have you ever met an online friend in person? Any mountain bike tips?  
Hugs and High Fives,
Jenn
Keep up with my kettlebell workouts, real food recipes, and more in one of three ways! 1. Sign up to have posts emailed to your inbox. 2. Subscribe to the RSS Feed or 3. "like" Girl Heroes on Facebook. Simple dimple!
Journey with our family on the road at Newschool Nomads as we travel fulltime in RV through the United States.
Pin It