The MAC Strength Ad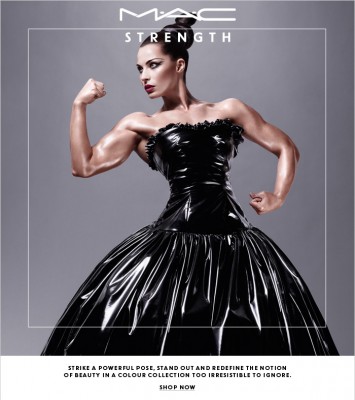 I admit when I first came across the new MAC Strength ad with a female bodybuilder, I was a bit startled.
Is this real?
Yes it is, unlike, the fake "My butt is big" Nike ad that circulated the internet a few years ago.
Who is this beautiful woman in the ad?
Her name is Jelena Abbou. She is a Serbian-American bodybuilder and fitness model.
Most importantly…
Is the new MAC Strength ad beautiful or another version of an almost impossible ideal for most women? 
First of all I LOVE this picture. I'm a huge fan of muscles on women. It's strong, beautiful, unique, and in your face.
I love the message that muscles are beautiful. It has always bothered me that men who have six pack abs get labeled ripped and women get labeled "mannish".  (It wasn't toooo long  ago 😉 that I had a ripped six pack of my own.) It's another one of those unfair double standards attempting to put female beauty in a box.
However…this is still another ideal. Albeit, a healthier ideal than bone thin, it's still an ideal that most women aren't going to be able to achieve without an extremely strict fitness regime and diet.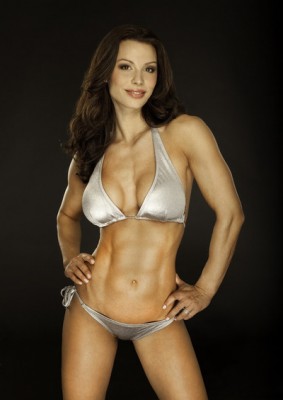 Jolene Abbou is lean like really LEAN. After all, she is a fitness model and that's a part of the job.
My point is just as it's important to remember most women in magazines are photoshopped, it's important to remember that a body like this is a mixture of genetics, crazy strict discipline, and time. I guarantee she didn't build this body overnight.
(Of course, "crazy strict" is relative. One person's strict is another person's walk in the park.)
Regardless of the questions this ad raises for me, I'm thrilled to see mainstream advertising embracing different side of beauty. It's a breath of fresh air compared to what we are used to seeing.
From the MAC site–
"Flex your femininity with a colour collection that's fearless, elegant and strong. Strike a powerful pose, stand out, redefine the notion of beauty – and do it with strength too irresistible to ignore."
Yes "redefine the notion of beauty" and start by resisting the temptation to compare yourself to anyone and embrace your unique beauty as you are.
How do you feel about the new MAC Strength ad? Do you think it's beautiful, another ideal, or both?
Hugs and High Fives,
Jenn
Keep up with my kettlebell workouts, real food recipes, and more in one of three ways! 1. Sign up to have posts emailed to your inbox. 2. Subscribe to the RSS Feed or 3. "like" Girl Heroes on Facebook. Simple dimple!
Journey with our family on the road at New School Nomads as we travel fulltime in RV through the United States!
Pin It