Eating at Home on the Road
As you may have read, eating on the road has been a bigger adjustment than I had anticipated.  The longer we are on the road the easier it becomes or perhaps it's just that we've been in Florida where there is a year round growing season. Either way, I thought I'd share some of the more unique places we've stopped.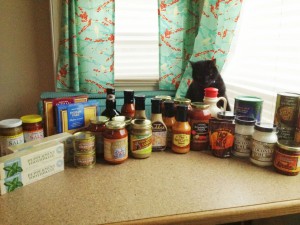 Before we headed out of Tennessee we stocked up at Trader Joe's. (I know Trader Joe's isn't unique but I sure do miss it.) It wouldn't be accurate to say we don't buy any processed food at the grocery. I do my best to cook most of our food from whole food ingredients but sometimes this momma is tired and cranky so I figure a quick curry dinner that uses a pre-made sauce is better than a stop for fast food. These are my favorite convenience foods and Trader Joe's staples.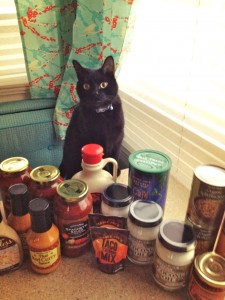 Meow Cow says, "What's for me?"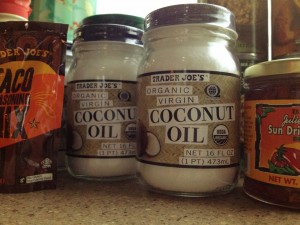 I had no idea that Trader Joe's had started carrying coconut oil!!! Either I missed it in California or it is a newer item.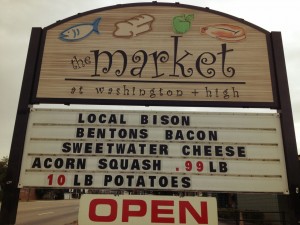 I found the Market at Washington and High through Eat Wild.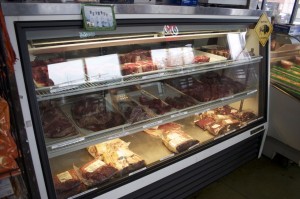 We stocked up on local grassfed ground beef.  This sign at the top of the meat case is a picture of the butchers that says, "Tennesseans process this meat."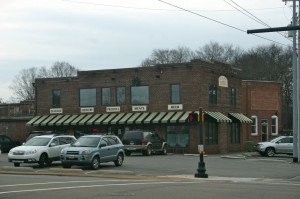 I love visiting small local grocers.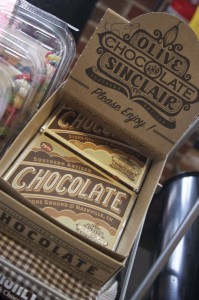 I also love trying local chocolate now that I'm eating sugar again. (BTW it's going really well. Maybe I can get around to writing some more about it later.)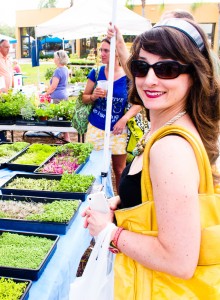 We were so busy traveling for a few weeks that we didn't have time for any more local stops until Port Charlotte where Brent and I had a date at a Farmer's market in Punta Gorda and then recently at the Alliance of the Green Market in Fort Myers.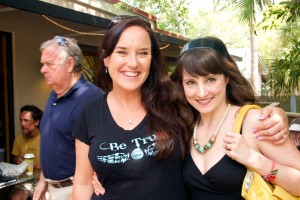 We heard about the Green Market through my friend Rhiannon. I met Rhiannon on the phone when I bought a Bodybugg a few years ago. She was my "Bodybugg Coach" and we ended up keeping in touch. How cool is that!!! We met at Bennett's Fresh Roast, a local coffee shop, with our families before we went to the Green Market.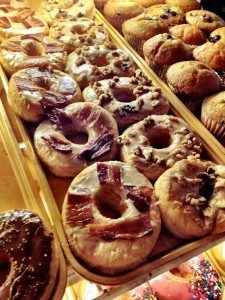 I have to admit I was tempted to get one of these "maple bacon doughnuts" but decided against it. We had a long day ahead of us and I didn't want to feel sick.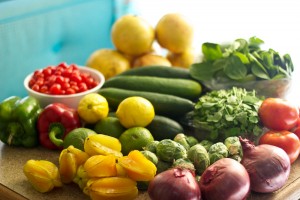 Back to the Green Market. We left with a good amount of fresh fruit and vegetables.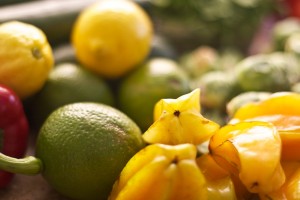 Including starfruit!!!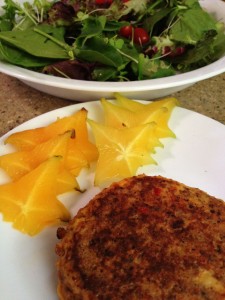 Salmon patties, starfruit, and salad with sprouts. Love alliteration!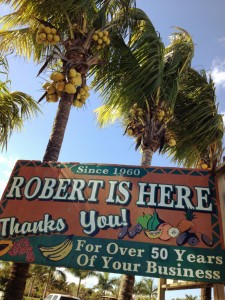 Then the other day, we stumbled on this gem, Robert is Here, a fruit stand in Florida City.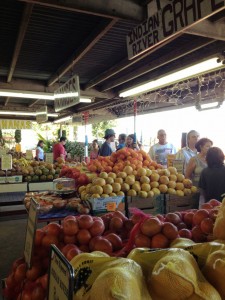 It was a blessing. We hadn't planned well (imagine that) and needed some things before heading into the Everglades for a few days. We had already passed all the conventional grocery stores so seeing Robert's fruit stand in the middle of the swamp was like finding an oasis in the desert.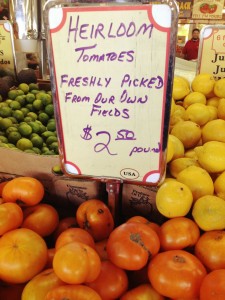 Robert had a fantastic selection of fruits and vegetables.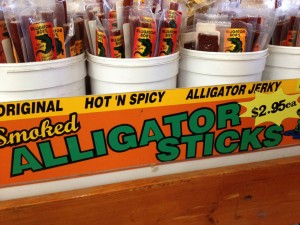 And alligator jerky. I passed.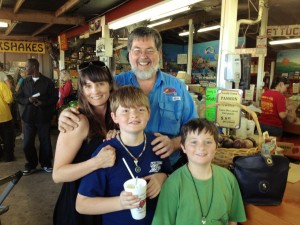 Robert still runs the stand over 50 years later! The story goes he set up a stand to sell cucumbers when he was 6 years old but since no one knew he was there he didn't sell anything all that Saturday. So his dad put out a sign that read "Robert is Here". That was in 1959! Cool, right!
I was so happy to meet Robert and support "stand". Everything we bought was delicious. We even stopped again on our way back out of the Everglades.
Well, I know we haven't shopped at as many local markets as I would have liked but we're trying.  It's been a challenge and an adventure. One I'm grateful to take on!
Hugs and High Fives,
Jenn
If you enjoyed this post you can follow one of three ways! 1. Subscribe to the RSS Feed 2. "like" Girl Heroes on Facebook, or 3. Sign up to have posts emailed to your inbox. Simple dimple!
Check out our family's adventures at New School Nomads as we take a year long RV road trip through the United States!
Pin It