5000 Miles to Crazy Town
I've been in a blogging funk.  It seems that writing 31 days to a Better Body Series took it out of me.
Oh and I'm moving into an rv for a year or more in a few weeks.  Downsizing four people into a little 300 square foot home is  a guaranteed recipe for crazy  a bit. of. a. challenge.  I have a to-do-list longer than the miles we'll drive next year.  It's making me almost as crazy as some of the people I've emailed with on Craigslist.  Really, Krishna, I don't want to make $600 dollars a month sitting in front of the TV posting links.  Btw, Krishna, that's called spamming and STOP IT.
I'm losing so many brain cells from the paint so busy I keep forgetting things like my kombucha.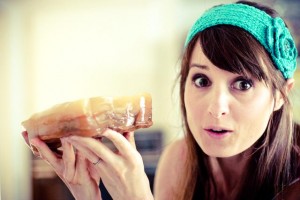 Check out that scoby.  Getting it out of the jar was like giving birth.  It's about 6 times as thick as my thickest scoby and the kombucha is so acidic it would probably eat a hole in my esophagus.  Kidding.  (BTW, I won't be drinking this batch.)
If I'm neglecting my kombucha like this just think what my kids (and the laundry) are going through.  Kidding again.  About the kids not the laundry.
Seeing that I don't have time to properly nurture my beloved kombucha or my children, blogging has taken a back seat.  The rest of this month I'm simply going to post about my life and mostly about the things I did in August because all I'm doing now is painting and selling things on Craigslist.  And deleting spammy emails from Krishna.
However, I did some cool stuff in August like go to Blogher, get my black belt, and attend the Perform Better Functional Fitness Summit.
I also have some big decisions to make like what kitchen utensils are going to make the cut?  How many kettlebells to bring?  Or is the scale coming along on the road trip?  Like I said, big decisions.
Then when we hit the road I'll post the workouts I'm doing to keep fit while traveling and get back to creating recipes in my minimalist kitchen.
Until then you can be jealous of my kombucha scoby.  She's a beast.
Love you guys!!!
Hugs and High Fives,
Jenn
Check out our family's adventures at New School Nomads as we plan to take a year long road trip through the United States!
If you enjoyed this post you can follow one of three ways! 1. Subscribe to the RSS Feed 2. "like" on Facebook, or 3. Sign up to have posts emailed to your inbox. Simple dimple!
Pin It