Nourish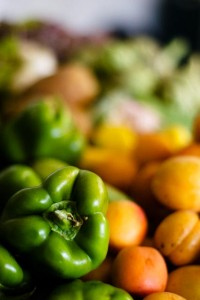 Free.
I  love free.  Especially something of value for free.
This week, I twice mentioned my favorite cookbook Nourishing Traditions: The Cookbook that Challenges Politically Correct Nutrition and the Diet Dictocrats
.  The author, Sally Fallon is also a co-founder of The Weston A. Price Foundation,  a foundation that is "dedicated to resorting nutrient-dense food to the human diet through education, research and activism."
So back to free.
The Weston A. Price Foundation also offers this free Healthy 4 Life downloadable e-booklet. It's filled with easy to read information and recipes. It's a great place to start if you are curious about traditional foods and how you can incorporate them into your modern day life.
Did I mention it's free.
Why I follow "traditional food" principles?
Over the years, I've read more books and articles on nutrition than I can count from vegetarianism to pale and things in between.  At some point I think one needs to go with their "gut" instinct.
A traditional foods diet is more of a philosophy or method or lifestyle than a diet.  I don't like "diets" and I don't like eliminating entire food groups.  The traditional diet eliminates very very little- mostly processed and junk food.  All the food groups are "allowed"  as long as they raised or prepared in a way that makes the nutrients beneficial or available to body, hence the raw dairy, soaking and sprouting.  (The free guide books explains this stuff way better than I can as I'm not scientific AT ALL.) There is also a strong emphasis on protein, fat, and fermented foods.
The only downside is that it can take a little more thought in terms of preparation have and sometimes time.  But for me the time has paid off.  When I follow this approach t0 food I feel amazing. Truly. When I revert back to old ways and start eating junk I feel like crap.  Shocking, I know.  It's pretty simple. Over the years, I've found what works for our lifestyle and learned to incorporate what I can.  Cooking my own beans?  Yes.  Making my own sprouted grain bread?  No.  Brewing my own kombucha?  Yes.  Milk kefir?  Not yet.
I'm still experimenting and I'm still learning.  All the time.
If you are interesting in learning more about traditional food methods check out the free Healthy 4 Life e-booklet!
Happy reading!
Hugs and High Fives,
Jenn
Check out our family's adventures at New School Nomads as we plan to take a year long road trip through the United States!
If you enjoyed this post you can follow one of three ways! 1. Subscribe to the RSS Feed 2. "like" on Facebook, or 3.  Sign up to have posts emailed to your inbox. Simple dimple!
Pin It