Chipotle Lime Roasted Chicken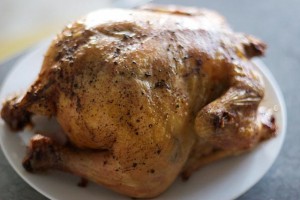 Whole chickens are one of the most economical sources of protein. I buy them in bulk every few months from Azure Standard. To get the most out of a single chicken, I'll first, cook and serve it as the main course.  Then that night I'll make chicken broth from the bones.  The next day, I'll make chicken salad, burritos, sandwiches, and soups with the broth.  Often there is enough left over to freeze for future use.  Usually, I get 3-4 meals for a family of four out of one chicken.  This chipolte lime chicken is one of our favorites!
Recipe: Chipotle Lime Chicken
Ingredients
1 Whole Chicken
1 Red Onion
1 Lime (quartered)
6 Garlic Cloves (minced)
1 Tbs Olive Oil
1/2 Tsp Cumin
1/4 Tsp Ground Chipotle Chile
Salt and Pepper
Instructions
Preheat oven to 400º.
Clean and dry chicken. Don't forget the cavity.
Season the chicken inside and out with salt and pepper.
In a bowl, mix together lime juice (squeeze the limes), the lime rinds, garlic, olive oil, cumin and chipotle. I also add in some extra salt.
Stuff the chicken with the chipolte lime mixture.
Roast the chicken, breast side down, for about 90 minutes basting with the pan juices every 15-20 minutes.
Chicken is done when a thermometer reads 165º when inserted into the thigh.
Preparation time: 10 minute(s)
Cooking time: 1 hour(s) 30 minute(s)
Number of servings (yield): 8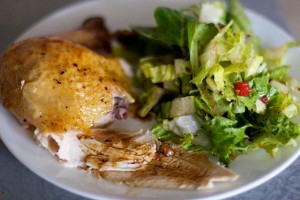 (I drizzle my chicken with the left over juices from the pan. Yum!)
If you are still wondering about a crock pot chicken recipe, I made this crock pot mushroom chicken recipe not long ago and really liked it.
Hugs and High Fives,
Jenn
If you enjoyed this post you can follow one of three ways! 1. Subscribe to the RSS Feed 2. "like" Girl Heroes on Facebook, or 3. Sign up to have posts emailed to your inbox. Simple dimple!
Check out our family's adventures being inspired to follow you dreams at New School Nomads as we take a year long RV road trip through the United States!
Pin It