Coconut Chicken Soup
This tastes better than it looks.
Promise!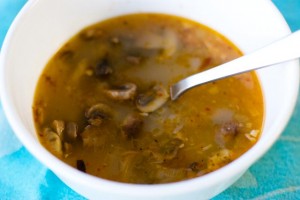 Coconut Chicken Soup
1 tbs coconut oil
1 can of lite coconut milk
6 cups of chicken broth
2.5 cups of chopped chicken breasts
2 cups of water
juice of two limes
1 tsp lime zest
4 shallots, diced
2 garlic cloves, minced
3-4 cups of mushrooms, sliced
1 tsp grated ginger
1 tsp roasted red chile paste (found in Asian section of grocery)
2-3 stalks  of dried lemon grass
2 tbs honey
sea salt to taste.
Sauté shallots, chicken, and garlic in oil for a couple of minutes. Put everything into a large pot and bring to a boil. Reduce heat and simmer until chicken is cooked through. This tastes even better the next day!!
Makes about 8 servings.
The approximate macros per serving are 208 calories, 35 grams of protein, 8 grams of carbs, and 3 grams of fat.
Hugs and High Fives,
Jenn
If you enjoyed this post please Subscribe to the RSS Feed.
or
Sign up to have posts emailed to your inbox.
Pin It