Healthy Happy Meal! Chicken Nuggets!!!!
I have no problem as a health blogger admitting I like fast food.  I do.  I think a lot of it taste good.  Sorry, if that offends you.
As a person who chooses to live a healthy lifestyle and make choices that I feel contribute to some changes I want to see in the world, I do have a problem with eating it regularly.  So I don't.
Instead, I try to make things myself that remind me of some of my favorites and one of my favorite are Chick-Fil-A's chicken nuggets.  I. LOVE. THEM.  (Almost as much as I love Long John Silver's. Even to the point I imagined a movie star hip pizzeria's appetizers tasting like Long John's.)  Boo.  Hiss.  I'm ducking your tomatoes now.
My grandma is southern and makes the BEST fried chicken ever.  I asked her how she makes it and she said flour, salt, pepper, and oil.  In days gone by, she used lard but now she uses olive oil. I've changed it up a bit by using coconut oil and cutting the chicken into little pieces. Inventive.  It still doesn't taste as good as my grandma's but it gives Chick-Fil-A a run for their money.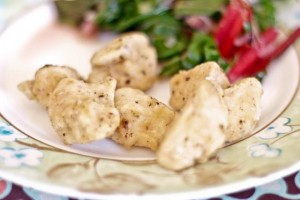 Crispy Chicken Nuggets
8 Boneless Skinless Chicken Breast
1/2 Cup Whole Wheat Flour
1 Tsp Sea Salt
Fresh Ground Pepper LOTS to taste
1/2 Cup Coconut Oil
Serves 8
1. Cut the chicken into bite sized pieces.
2. In a bowl combine the flour, sea salt and pepper.  I say in a bowl because I don't measure the pepper.  I just grind until it looks like this.
I like a lot of pepper.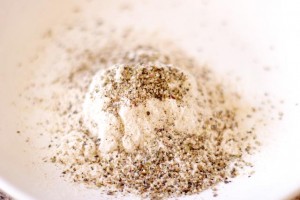 3. Put the flour mixture in a ziplock bag.  Shake.  Add the chicken and shake.  Remember "Shake-N-Bake".  Except this time we aren't going to bake we are going to (gasp!) FRY!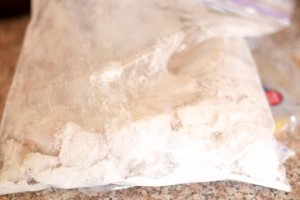 4. In a skillet warm the coconut oil over med/high heat.  Add the chicken and, using tongs, turn the nuggets until they are brown on all sides.  Continue cooking until chicken is no longer pink on the inside and the outside is crispy.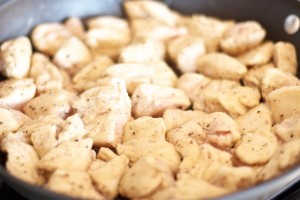 5. I will often turn down the temperature to LOW and cover to cook for an additional 20 minutes or longer.  I have no idea why  (steam?) but this seems to make the chicken really tender more like Chick-Fil-A.
6.  Last, I put them in a bowl lined with paper towels to absorb some of the oil.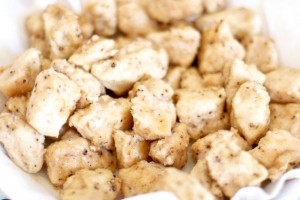 Nutrition Info: 200 calories, 5 g carbs, 28 g protein, 7 g fat per 4 0z. serving (about 6 or 7 nuggets)
I serve these with homemade honey mustard.  SO. GOOD.
Homemade Honey Mustard
(For now use your imagination.  I'll snap a picture next time I make it.)
2 Tbs Raw Honey
2 Tbs Yellow Mustard
2 TBS Dijon Mustard
So simple  but so delicious and the raw honey is chock full of beneficial live enzymes and vitamins.
(Kinda helps you not feel so bad about eating fried chicken.)
Just to show you how much I love chicken nuggets.
I served them at my wedding.
Classy.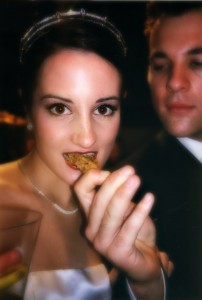 Go check out my good friend Deb's post for more Good, Bad, and Funny pictures of awesome bloggers!
Hugs and High Fives,
Jenn
If you enjoyed this this post please Subscribe to the RSS Feed.
Sign up to have posts emailed to your inbox.
Pin It