A Retreat and Treat.
Today we are going to the Sequoia National Forest.  We are going to the same campground that we visited  last year where we had a fantastic site.  Not only were we surrounded by dozens of beautiful Sequoias, there was a great hill right behind our site that I used for my workouts.   This time last year I was competing to lose and my first figure competition was weeks away.  This year I'll be enjoying breakfast pancakes without the pressure of standing on a stage in a bikini anytime soon.  However, I do plan to get in a few workouts since I've been slacking a bit as of late.  I'll probably jog the campground, do my camping workout, and if we are lucky enough to get the same site "sprint" the hill.  I love working out in nature.  I find it invigorating and being in nature reminds me that my body was made to move.
Here is a picture of our site last year.  You can't really see the hill but it is off to the left.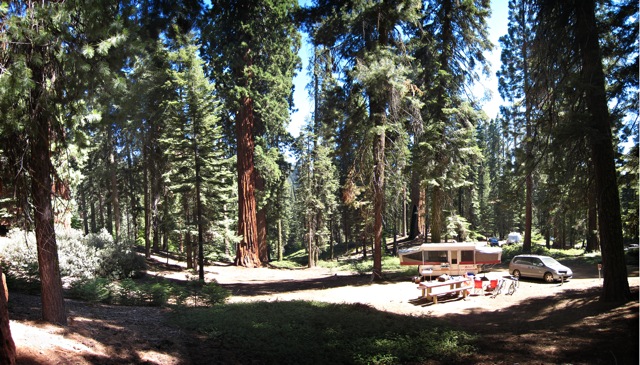 On our way to the Sequoias we will be driving through Bakersfield.  I love Bakersfield for one reason LJS's.  What?  Long John Silver's.  I know it's not exactly the healthiest place of the planet but, regardless, I LOOOOOOOVE it and we don't have one near by our town.  Once we were at Mozza Pizzaria in LA with some industry (what Southern California refers to the film and television industry) friends having dinner.  These weren't close friends and frankly I was feeling a bit un-fancy listening to them talk about the Sky Bar with Ray Romano a few tables over.  I was politely listening when I took a bite of an itty bitty fried cheese stuffed squash.  "Oh my gosh this is amazing! It tastes…just like…" I stopped myself realizing I was about to blurt out "Long John Silver's crunchies". I didn't want to offend our friends who had being talking up this restaurant as if it was divine. Not that Mozza wasn't amazing but LA is notorious for hype.  I mean little stuffed squashed that taste like Long John Silvers are amazing but personally I'm just as happy at LJS's as I am at a fancy place.  If not happier.  I stammered out the rest of my sentence about how the stuffed squashes "just taste so good".  Yeah very eloquent. Secretly, I was reminded of how much I love LJS's.
I'll be back to blogging next week.
xoxo
j
Pin It