Fluffy Friday: Celebrity Workouts that WORK!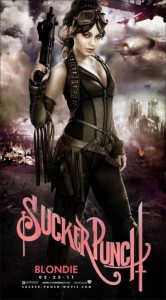 Today is the opening for Sucker Punch.  I could not care less about this movie BUT I'm thrilled to see Shape published one of Vannessa Hudgens workouts AND it doesn't involve 5 pound dumbbells.  In fact, they recommend using "Two 12- to 24-pound kettlebells or dumbbells (they should feel very heavy)".  Did I read that correctly?  "they should feel VERY heavy" (emphasis mine) Someone pinch me.  Finally, awesome advice from a mainstream fitness mag.  These are the same type of workouts that I do with my clients and MYSELF.
Check it out the functional movements like goblet squats and push presses.  Way to go Shape!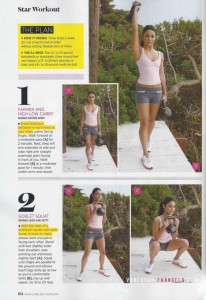 (I was going to say they shouldn't have her in cushy tennis shoes but on second glance I think those are The Nike Frees, while not the best, are better than standard tennis shoes for kettlbell training. She would reduce her likelihood of injury and get even stronger using kettlebells in flat soled shoes like Converse Chuck Taylor's or, better yet, barefoot.)
Not only does she have a hardcore workout but there is a video where she is talking about her diet which includes lots of "proteins and vegetables" and if she gets a carb craving she goes for "Ezekiel bread".  I don't know about you but I find it refreshing to hear a celebrity talk about what they are really eating to maintain a killer body.  Unlike the typical celebrity who lies says they eat cheeseburgers and cakes as if they are on the brink of famine despite looking like they live off of celery and water.  For most people, a CONSISTENT (ahem) diet of veggies, protein, and slow digesting carbs like Ezekiel bread will not only feed your body the nutrients it needs to optimally function but will also help shed fat and feed muscle.
I know a lot of women feel bad when they look at pictures of celebrity bodies.  Personally, it doesn't usually bother me.   Celebrity or not, I find the sort of discipline it takes to have a lean strong body like Vanessa's (the article said she did 500 box jumps) inspiring.  It makes me want to keep working out hard and eating healthy because while feeling my best is AWESOME, I think looking my best is pretty awesome too.  Shallow?  Maybe.  Honest.  Yes.
Hugs and High Fives,
Jenn
If you enjoyed this post please Subscribe to the RSS Feed.
or
Sign up to have posts emailed to your inbox.
Pin It