Girl Hero Helen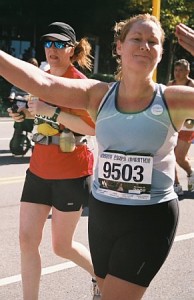 Meet Girl Hero Helen.  Helen set out to weigh less than 180 pounds by her 50th birthday but along the way discovered the real lessons of weight loss are not found in a scale. Helen is married and has a 31 year old daughter and a 29 year old stepson.  Helen works as an assistant to the CEO of a group of companies.   She loves to cook and develop recipes and, like many bloggers, Helen is passionate about running!  In fact, she has a group of friends who refer to her as "Crazy Running Woman".  Interestingly, she is a late in life runner and didn't start until she was 42 years old.  Along with running she does Muay Thai with her husband. Helen also has hypothyroid which slows her metabolism way down but, despite this challenge she "keeps on keeping on" working toward her goals and hopes to inspire other hypothyroid patients to not give up.  A true Girl Hero!  She chronicles her journey at her blog, Doing a 180 .
You were a "late in life runner". What made you start running?
I started because I was trying to stay off blood pressure meds.  Unfortunately my BP issues are genetic but by the time my doc decided I still had to take a low dose pill, I was enjoying the running so I kept it up.  Just a few miles a few times a week.
After I had run on my own for about a year, I found out about a local six week training program for a 3.5 mile race that benefited the neonatal unit at our local hospital.  I was terrified but I signed up and did the 6 weeks of training with the group.  On race day, I was dressed all wrong:  no cute running/wicking wear, just a cotton t-shirt and some crazy sweat pants, a pair of bad/cheap running shoes, and both legs taped from ankle to knee because I had such bad shin splints.  But when I crossed that finish line, I experienced a thrill like I'd never experienced in my whole entire life and was hooked.  I've never looked back.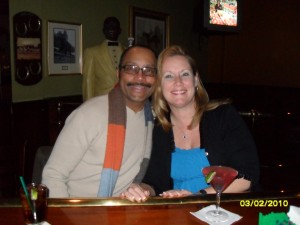 50th Birthday!
You started your blog Doing a 180 with the intention to weigh less than 180 pounds by your 50th birthday.  What happened in those 180 days?
In reference to my weight, not very much.  It went up, down, and all around but kept settling back around 180.  Very frustrating.  So I had to work on keeping a positive mental attitude so that I wouldn't give up in discouragement.  When I run distance races my mantra, as my brain starts telling me to stop running, is "Just Keep Running."  During those 180 days, I developed a new mantra for my life as it relates to weight loss: "Keep on keeping on."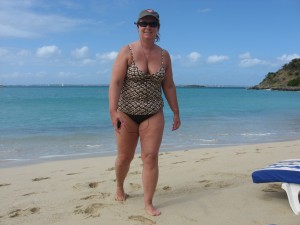 Before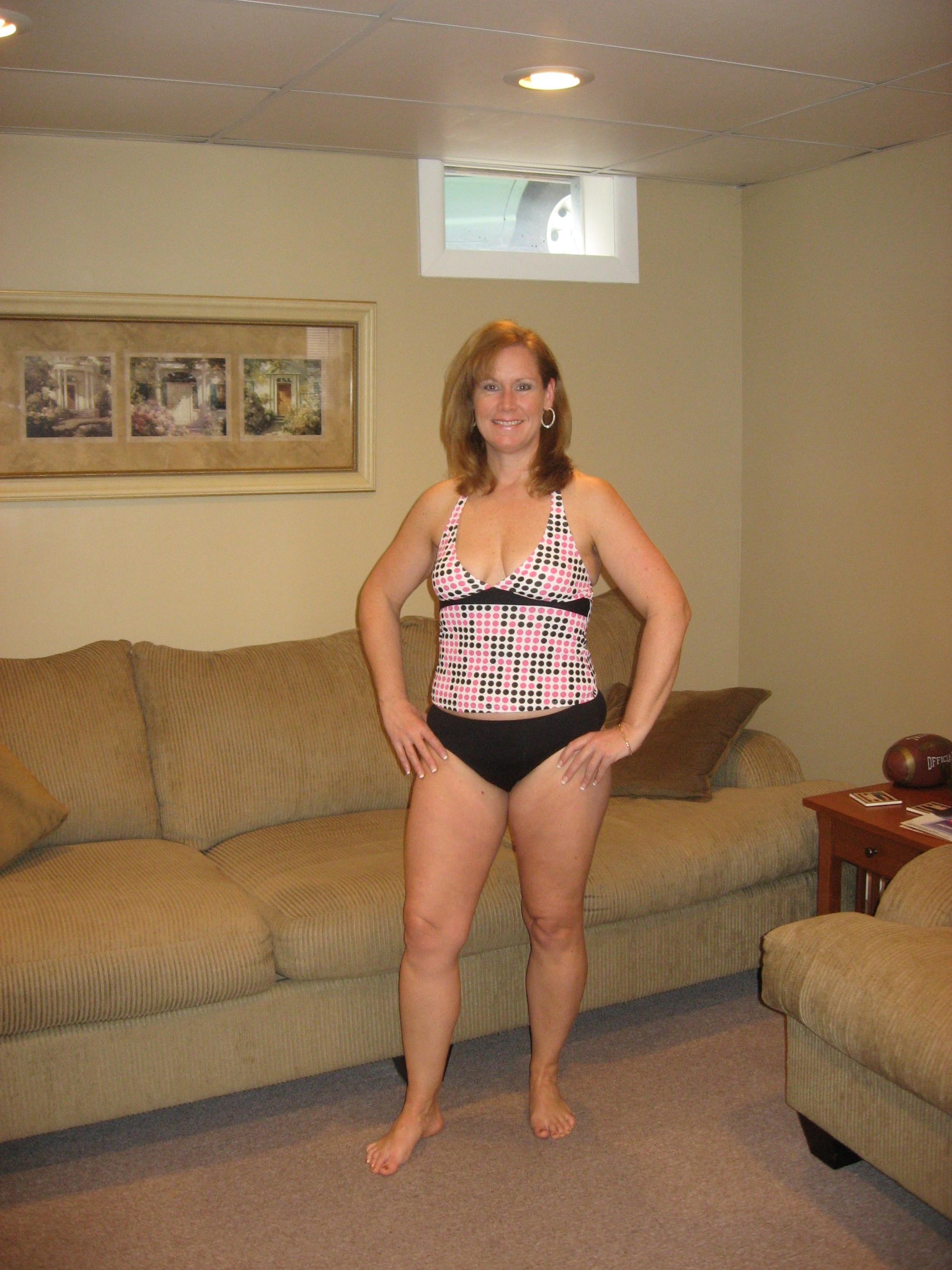 Almost to goal!
Did you learn before anything unexpected during those 180 days?
As the date got closer, I discovered that if I turned 50 and wasn't below 180 it wasn't going to be the end of my world.  That deadline was one I had imposed on myself.  But, in real life, you have to take however long you need to take.  In the long run, I found out that though I would like to weigh less, what I really want is to make peace with my body.  I actually changed the "About Me" section on the blog to reflect that.
I found out that I enjoyed blogging more than I ever thought I would.  I have made some great friends who are as 'real' to me as friends I interact with in real life.
What are some of your favorite blog posts?
What I find interesting is that my favorite blog posts have nothing to do with weight loss!  They're about the loves of my life, my daughter and my husband, and I wrote the three part one on request from several followers.
This Season of Love (in three parts)
This Season of Love, The Finale
How long ago since you passed your 180 day goal?  How does you lifestyle now compare to your lifestyle then?
Well, I'm 51 now so it's been a year and some.  I have gone from a 'dieting' mentality to wanting to be my best self and live healthfully.  Sometimes no matter what you do the scale won't budge.  When that happens it's easy to want to freak out and do a crazy diet.  Really, the best thing is to keep eating healthfully and get some exercise.  I found out I cannot be consumed by weight loss.  I have a wonderful, vivid life that I need to live and enjoy!  Not to say that I don't pay attention but rather to say I'm not fixated on it and hope that weight loss will happen as a bonus of trying to live my best life.
What is hypothroid and how do you manage it?   Any advice for others?
The thyroid controls the body's metabolism.  When someone is hypothyroid, basically their metabolism slows way, way down.  I was diagnosed at age 45 so in my case, not only was I being hit with mid-life hormonal changes and metabolism slow down, which is challenging enough, but I also got the thyroid diagnosis.  By the time the doctor figured it out from January to August, I had gained 55 pounds – 30 of that over the course of a summer while training for a half marathon.
It took about 2 years of messing around with medications before I was somewhat balanced and was allowed to try to lose some of that weight.  In 2007-2008 I lost 45 pounds and then my thyroid went a bit nuts again and I gained 30 back.
This is the weight I've been trying to lose ever since, so going on 3 years now.  This tells you, I'm still trying to manage it.  But I don't give up and I keep trying new things.  I hope one day I can actually get the weight off and inspire other thyroid patients!
My best advice to others is educating yourself!  When you know better, you can do better.  For example, soy products interact with thyroid medications.  Many protein bars and other things have soy in them.  Also, calcium and antacids can completely negate the affect of meds.  So it's very important to take meds on a completely empty stomach about an hour before you eat.  Things like that will make all the difference in how your body responds to the medical side of things.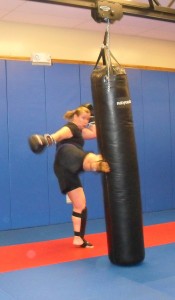 Tell us about Muay Thai?  When did you start?  How do you like it?  Has it made an impact on your life in anyway?  Are you planning to get your black belt?
My husband has been involved with Martial Arts for 8 years and is a second-degree black belt (testing for 3rd in December of this year).  He is very talented and just before he got his 1st degree, the dojo owners asked him to work for them part time. At the time they were strictly Shorin-Ryu Karate but soon enough started introducing various mixed martial arts.  When they introduced Muay Thai he started coming home and telling me he thought I'd love it.  But Muay Thai is a martial art.  It's not just cardio kickboxing so I was intimidated and wouldn't go.
But, I hate gyms.  And I hate strength training and I knew deep in my heart that I needed to find something, even if it was body weight functional fitness to balance out all the running I was doing.  So, in 2009, after him asking me for several years I gave in and agreed to go try it out.
I liked it so much better than I thought I would!  Plus I started seeing physical benefits related to strength from all the squats, pushups, sprawls, cherry pickers, punching and kicking.  There's nothing like being able to punch a bag at the end of a stressful day.  At first, I signed up only for year because I wanted to make sure I would want to stick with it.  At the end of that year, I committed to getting my black belt.  If I stay on track, I should be getting that in 2012.  And, it has turned out to be the perfect compliment to running.
In general, what motivates you to take care of your body on a day to day basis?
Definitely health.  There are some genetic issues in my family that I would like to stave off if at all possible.  There is rampant heart disease on my mother's side of the family.  In fact, I had an aunt (passed away now) who was actually a heart transplant recipient.  Not to mention cholesterol and blood pressure issues.  I want to be healthy enough to live on my own well into old age!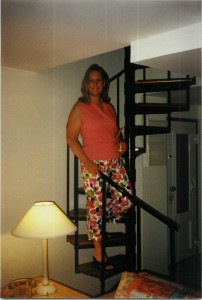 If you could…is there a particular day in your life that was so wonderful you would want to live it over and over again?
In 2002, My husband and I were finally getting a long put off honeymoon.  When we got married in 1992 it was a second marriage for both of us and we were starting with kids.  No money = no honeymoon.
Ten years later we'd gotten the kids raised and one graduated from college so we decided to take a trip.  We chose St. Martin, in the French West Indies.  Because the trip was in May of 2002 (right after the horrific events of 9/11) we got a great deal.
We arrived at the resort only to be told that the room we had reserved (a beach front efficiency room with a kitchenette) was not available.  My husband, who is usually the picture of cool, started to lose it.  He told the check-in agent that the only thing his wife wanted was a beach front room and that they couldn't deny us that.  Didn't they understand this was our long put off honeymoon?  She just calmly said to him, "Oh sir, you'll get beachfront and I'm sure you will like the accommodation and it will be at the same price."  Sort of in that laid back Caribbean way.  She called a porter to come and take our luggage to the unit.  As we followed the guy walking down the sidewalk my husband was fuming the whole way.  We walked all the way to the end of one of the buildings and the porter opened the door and told us to step inside.
She had upgraded us to a 2 bedroom/2 bathroom townhouse style unit with a living room and full kitchen!  Outside the sliders was a private patio.  There was a spiral staircase leading up to the bedrooms where the master bedroom had a balcony overlooking the gorgeous Caribbean Sea.  In that split second we went from economy to luxury. It was so beautiful and so much more than we ever could have dreamed of… and to this day, we still relish that memory and St. Martin continues to be our Happy Place.
I would want to relive that day over and over again too!  Thank you so much for sharing your story with us.  I know your determination and positive attitude despite the challenges you face are already inspiring people!  You are a Girl Hero!
Don't forget to check out Helen's blog!
Hugs and High Fives,
Jenn
If you enjoyed this post please Subscribe to the RSS Feed.
or
Sign up to have posts emailed to your inbox.
Pin It