11,000 Kisses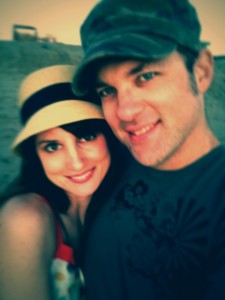 Eleven years ago, almost to the hour, I was running down Bath Street in Santa Barbara crying and screaming.  It was the night before my wedding.  I was crazy.  Most of all, I was scared.  It wasn't that I didn't want to get married.  In fact, never in my life had I loved someone so much but with that love came deep veins of vulnerability.  I knew, I was betting my heart and it frightened me into a frenzy.
Thankfully, fate knows better than odds.  Tomorrow, we are celebrating the 11th anniversary of our public wedding vows and I love Brent at least  11,000 times more now then I did then.  If you would like, you can read the story of  how we met and got engaged three months later, despite me being a bit psycho. That post, Psycho to Princess, is my favorite post ever.
It's late and because I want to spend time with the man I write of, I'll leave you with the slideshow he made me last year for our anniversary and a playlist.
Brent, no music, no words, no kiss, will ever be able to express of the depths, heights, and widths of my love.  Still, I try.
Joga – Bjork – Some of my favorite lyrics ever.  (Youtube link)
Love Song – The Cure – Robert Smith says it perfectly.  (Youtube link)
My Little Corner of the World  – Yo La Tengo (Youtube link)
Breath Me – Sia (Youtube link)
Chasing Cars – Snow Patrol (Youtube Link)
Hallelujah – Jeff Buckley – This version is FAR SUPERIOR to the one that Shrek made popular. (Youtube Link)
Angel – Massive Attack – (Youtube Link) – Powerful video.
No One's Gonna Love You – Band of Horses – (Youtube Link)
Beautiful – Smashing Pumpkins – Such simple sweet lyrics. (Youtube link)
Such Great Heights – The Postal Service –  (Youtube Link) The song in our slide show was an Iron and Wine cover of this song.
As usual, thanks for reading, friends.  I'll get back to health and fitness next week.
Have a wonderful weekend.
Hugs and High Fives,
Jenn
If you enjoyed this post please Subscribe to the RSS Feed.
Sign up to have posts emailed to your inbox.
Pin It