Forget Exercise: Who cares if you are healthy as long as you are thin.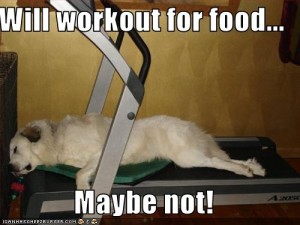 "They" are talking again and this time, rather than telling us we need to exercise more, they are telling us we are wasting our time.
Oh joy.
Yesterday, the Guardian posted this article, Why Exercise Won't Make You Thin which was basically rehash of Time's article with the same title that was published over a year ago.   You can find the link and read my thoughts on Time's article here.
As I said last year, I agree with the article on one level.  It's hard, if not impossible, to out train a poor diet.  Unless you are Michael Phelps.  Remember the 12,00 calories a day? For the rest of us mortals,we aren't going to lose any fat eating the equivalent of 24 Big Macs a day even if we hit the gym daily.
But…
There is more to exercise than losing weight.
(Ground breaking, I know.)
Why are they posting headlines like this when rates of obesity, disease, and depression are at an all time high?  How about "Exercise Alone Won't Make You Thin If You Eat Like Crap" or "Forget Exercise: Who cares if you are healthy as long as you are thin".
My concern?  Will the people who need to exercise not just to lose weight but to improve circulation, reduce the risk of heart disease, manage diabetes, increase bone density, ect, ect., ect., get past the headline?  How many are going to make it to the last part of the article where it talks about the importance of exercise and nutrition.  My guess is the majority people who read the entire article are going to be people like me.  People who get ticked off by the headline because we just walked in from an all out sweat session at the gym and no one is going to tell me I'm wasting my time.  You hear that, "they", whoever you are.  Maybe I'm wrong.  I hope so.
Here is a list of why I exercise and staying "thin" is only part of it.  A small part.
– Fights "the blues", ie, feelings of depression.
– I enjoy feeling strong.
– I can run and play with my kids without getting winded.
– I can fall down and not worry I'm going to snap in half.
– My likely hood of disease is reduced.
– It  gives me mental clarity.
– Increases my energy.
– Reduces my PMS symptoms.
–  I sleep better at night.
– Last but not least it (specifically weight training) helps me to sculpt my body.
(The word "sculpt" in regards to exercise always sounds so cheesy to me.)
What about you?  Why do you exercise?  Body image?  Health?  Did you ever lose weight just by exercising without any change in your diet?  What are your thoughts on the article?
Hugs and High Fives,
Jenn
Pin It