Tasty Tuesday: High Protein Swedish Pancakes
There are a lot of things I love about my husband.  His tender heart.  His humor.  His devotion to me and our kids.  His creativity.  His work ethic.  His sexy blue eyes.  His smile.  I could go on and on but before you gag I'll say, "Swedish Pancakes".  Yes, there is one more thing I love about my husband.  His Swedish Pancakes.  (And his willingness to put up with my demanding personality requests.)
We had these Saturday and Sunday for breakfast.  While,they were delicious both days, Saturday's were a little more calorie dense and carb heavy than I like so Sunday he made some adjustments.  Here is his slightly lighter version and for the record he is a 1/4 Swede.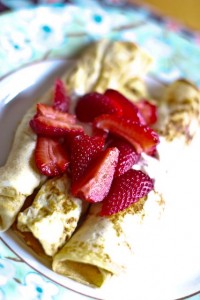 Brent's Creme Filled High Protein Swedish Pancakes
Pancakes
2 cups of milk (we use whole)
4 egg whites
2 whole eggs
1/2 cup of flour (we use wheat)
2 tbs melted butter
1 tsp vanilla
Filling
4 0z of cream cheese
1 cup low-fat cottage cheese
2 tbs raw honey
Topping
2 cups of fresh strawberries
1. Mix all the pancake stuff together until smooth.
2.  Melt a little butter in skillet over medium heat.
Pour about a 1/4 cup of batter into the skillet.
We are using less flour than normal so the pancakes will be a little fragile.
Cook thoroughly before flipping to prevent them from tearing.
3. In a blender or food processor combine the filling ingredients and blend until smooth.
4.  Spread the filling inside the cooked pancakes and roll it up.
5. Top with your favorite toppings.  We used fresh strawberries.
Makes approximately 4 servings
435 calories, 40 g carbs, 20 g protein, 22 g fat* per serving
*You could lighten these up  more by using low-fat milk, low-fat cream cheese, and a butter substitute.
Enjoy!
Hugs and High Fives,
Jenn
If you enjoyed this this post please Subscribe to the RSS Feed.
Sign up for up to have posts emailed to your inbox.
Pin It