Recipe Blueberry French Toast
Sometimes it's hard to choose to eat healthy.  ESPECIALLY WHEN YOUR HUSBAND MAKES WHITE PANCAKES ON SATURDAY MORNING!!!!!  So to feel like I wasn't totally being deprived I made this french toast.  It doens't tastes like WHITE PANCAKES but it is yummy and feels like a treat while still keeping my blood sugar stable and my waist small.
Blueberry French Toast
2 pieces of Ezekiel Bread  (I used the cinnamon raisin one.)
2 egg whites
salt
cinnamon
butter (teeny pat) 
1/2 cup frozen blueberries
1/2 tbs agave nectar
slivered almonds (optional) 
Calories  262  Protein Grams 14, Carbs Grams 55,  Fat Grams 1  (7 grams of fiber)
Put the egg whites in a large bowl and sprinkle with cinnamon and salt.  Melt you little pat of butter in a skillet.  Dip the bread in the eggs and cook on eat side until your bread is all crispy-like.  Put the blueberries and agave in a separate pan and cook until the blueberries juice starts to turn into a sauce like consistency. I smooshed them with a spoon.  Pour the blueberry sauce over your french toast.  I know it doesn't look that great but it was really good!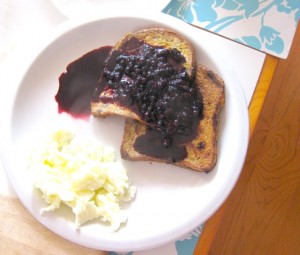 I added 3 egg whites on the side for 12 extra grams of protein (48 extra calories).  Had I had slivered almonds I would have sprinkled a few on top for some healthy fat.
xoxo
j
Pin It