What the… Mediterranean Quinoa Salad Recipe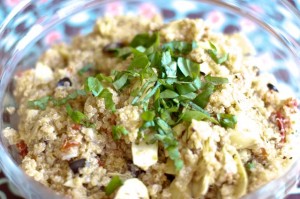 Mediterranean Quinoa Salad Recipe
1 cup of quinoa
1 can of artichoke hearts (quartered)
1/4 cup olive oil
1/4 cup of Kalamata olives (chopped)
1/4  cup of sundried tomatoes  (chopped)
1 tbs of dried oregano
sea salt to taste
fresh basil
Cook the quinoa in water.  (I use twice the amount of water as quinoa.  Bring to a boil.  Throw in the quinoa.  Reduce heat and cook until all the water is absorbed.) In a separate bowl, mix together the rest of the ingredients.  When the quinoa is done toss with the artichoke mixture.  Use kitchen scissors to cut pretty little slivers of basil.  Be obsessive compulsive and meticulously sprinkle them over the top of the quinoa fussing over each sliver.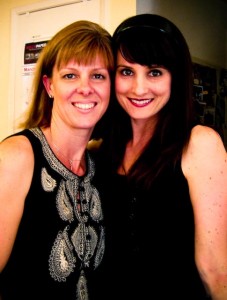 I made this salad last minute for a friend's birthday celebration Sunday.  It turned out good but how could it not with Kalmata olives, artichokes, and sundried tomatoes!  I feel like I should insert "nom nom nom" right here but I just can't bring myself to do it.  Somehow imagining that sound makes me a little nauseous and besides I just don't get it.  I'm like person 2 from this urban dictionary definition.
People are awkwardly sittin around in a room with nothing to say…
Person 1: nom nom nom
Person 2: wtf
Person 3 and 4: hahahaha
What are your turn-to-make-anything-good staples?  The ones that make you go "nom nom nom".  What the…  😉
Hugs and High Fives,
Jenn
If you enjoyed this this post please Subscribe to the RSS Feed.
or
Sign up for up to have posts emailed to your inbox.
Pin It