Girl Heroes' Oscar for Best Arms
Normally, I save these sorts of post for Fluffy Fridays but since the Oscars were last night I'll call it  Meaningless Monday.
I don't get television so I don't actually watch the Oscars.  However, that doesn't stop me from going online to look at all the fabulous dresses, toned arms of the Oscar attendees, and giving out my own personal awards.  Last year's Girl Hero Oscar winner for best arms went to Jessica Biel.  She called and thanked me profusely.  This year, the winner goes to Cameron Diaz who is also on my old top 5 fit celebrity bodies list.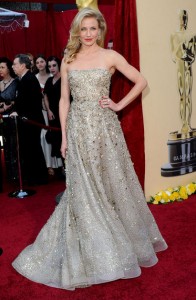 Incidentally her dress was my favorites too.  So lovely.
The other nominees for Girl Hero's Oscar for Best Arms.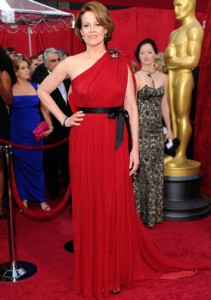 Sigourney Weaver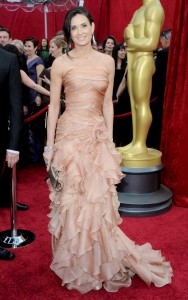 Demi Moore.  Can't say the same for the dress.  Not big on matching your flesh with your dress.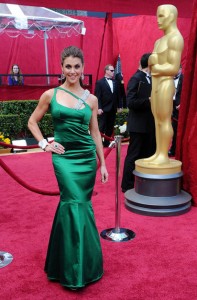 Samantha Harris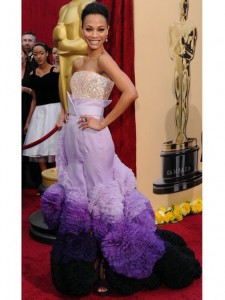 Zoe Salada The bottom of her dress reminds me of a pinata. Bizarre.
I believe the key shapely arms is building shapely shoulders.  Defined shoulders look great in all styles of dresses and tops.  Currently my favorite move for strong shoulders are Turkish Get Ups.  Before my kettlebell obsession I used dumbbells for shoulder work and would often do  this workout.
If you haven't already hop on over to One Fit Foodie and enter her Celestial Seasoning Giveaway! You have one day left to enter!!!!!
Did you watch the Oscars?  Who wore your favorite dress?  Who would you have given the Oscar for Best Arms to?
Hugs and High Fives,
Jenn
If you enjoyed this this post please Subscribe to the RSS Feed.
Sign up for up to have posts emailed to your inbox.
Pin It