How much weight should I lift??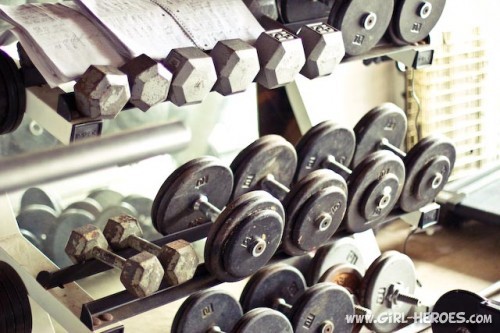 Thanks for sharing your workouts but I don't see how much you are lifting.  I'm not sure how much weight I'm supposed to be lifting. Can you help me?
First you're welcome!!  Everyone is at different levels of fitness and therefore there is not a one size fits all weight for women or men.  Here are some guidelines I follow.
1. There are two ways to figure out how much weight to lift. You can find out your 1RM (1 rep maximum, i.e., the most weight you can lift once) and then lift 70-85% of that load for a set number of reps OR trial and error. I'll go with trial and error.  Because I like to keep things simple and avoid math whenever possible. Plus if you use the 1RM method you have to keep testing your 1RM and figuring out that the % of weight is your going to lift. Who has the time to do that?  I've always used trial and error to find my weights.  It's really quite simple.  By the last rep of my last set I want my muscles to be nearly fatigued.  In other words, if I'm doing 3 sets of 10 bicep squats by rep 10 of my 3rd set (rep 30) that barbell should feel like it weighs almost a million pounds.  If it feels more like a broomstick then you need a heavier weight.
2. If I'm training with high reps I will use lighter weights.  If I'm training with less reps it will be heavier weights.  Pretty simple.  The goal is the same: to lift what feels like a million pound weight while keeping good form when you reach your last reps.  This may be 5 pounds or it may be 500 pounds depending on your strength.
3. For the first set I always go lighter to warm up the muscles. The second set I go heavier.  I continue to add weight until I'm pretty darn sure that it's going to be HARD to finish my last set.
4. I  lift until muscle fatigue.  Now this doesn't mean failure although occasionally I do work until failure. Most of the time I lift enough weight that my last rep is hard not excruciating.
5. If you are just starting out I recommend going lighter until you figure out good form (see #6). So depending on your strength this number will be different.  For some people just starting out this may be 5 or 8 pounds. Who cares what your lifting as long as you are challenging yourself! For people who've been training a long time this number will be much higher.  Again, if you've complete all your reps and it feels equivalent to dusting the house, you need to go heavier.
6. This one is more for the guys!  Sorry that's sexist (I'll own it.) but I see waaaayy more guys at the gym with sloppy form then women!  Probably because most of the women are lifting 1 pound dumbbells because they are afraid of "getting bulky". But not us…we know better!  

Anyhoo use good form so you don't hurt yourself and end up depressed in front of the TV eating Kentucky Fried Chicken because you can't work out. It's important to keep good form while lifting not only so you don't hurt yourself but so you actually use the muscles your supposed to be using. Use some common sense. If you have to start throwing your body weight backwards to curl a barbell then your biceps have probably reached their max.  Some people's opinion are different on mine than this but I'm very cautious when it comes to lifting.  I think most movement (excluding power movements like power lifts and ballistic drills like kettlebell swings) should be slow, not slow motion, (although some people swear by the super slow method) but CONTROLLED.  If you pay attention to your form keeping good posture by engaging your core muscles and using controlled movements it's unlikely you will hurt yourself. I'm speaking of basic moves, the things you see in all the books, not power lifts.  If you are going to go out in your backyard to try to hang clean and press the extension ladder in your garage then consult a trainer to teach you how to do Olympic style lifting correctly.  You want to fatigue your muscles using good form.
7. Lastly, keep a journal. I think this has been the biggest key to my weight loss and muscle gain. I carry a journal to EVERY workout session so I don't have to remember how much lifted last time.  Each workout I record the number of reps and how much weight I lifted.  Carrying a notebook around the gym may seem like a pain but if you're anything like me it's MUCH MORE of a pain trying to remember numbers from the previous week.  That's what I used to do years ago and every time I worked out I'd get discouraged trying to remember what weight I used for what body part. I would think I could curl 70 pounds then nearly pull my back out trying to pick up the weight.  Not too mention it I kept thinking my memory was going and since I'm a hypochondriac I don't need anything else to worry about.  So I save myself the time and frustration of trying to find the correct weight every time by jotting it down in my notebook.  Then the following week I try to lift a little more.  If the weights don't go up in small enough increments I keep adding reps until I can move up to the next weight.  Or I move up the in weight but do less reps and work up.
I hope this clears up any confusion as to how much you need to lift. Sometimes I think "experts" overcomplicate working out (Bill Phillips does not. Which is one of the reasons I like the Body for Life book.) and people feel overwhelmed by all the info. So they put off starting an strength training program. For the average person, like me, it doesn't have to be rocket science.  When I was training for my figure competition I kept it simple.  Life too dang complicated already to turn exercise into molecular science.  Cavemen moved boulders 1000's of years ago, we can move iron without making it too difficult.  Just lift heavy using good posture (something cavemen didn't do…at least not according to the movies) and controlled movements.  Don't be the lady whose is all slouched over swinging 1 pound dumbbells for weeks on end wondering when she is going to see results!
You are all awesome.  I hope this helps clear up the "how much weight should I lift" question. Have a great weekend.
Hugs and High Fives,
Jenn
Keep up with my kettlebell workouts, real food recipes, and more in one of three ways! 1. Sign up to have posts emailed to your inbox. 2. Subscribe to the RSS Feed or 3. "like" Girl Heroes on Facebook. Simple dimple!
Journey with our family on the road at New School Nomads as we travel fulltime in RV through the United States!
Pin It