Girl Hero Katie
For as long as she could remember Katie struggled with her weight but in 2009 she made the choice to "get healthy once and for all".  Almost a year and a half later ,Katie had lost 125 pounds! What I appreciate most about Katie's story is her honesty and down to earth attitude. She openly shares about everything from her "ever constant battle with binging eating" to worrying about her kids being overweight to buying clothes at thrift stores on her blog Runs for Cookies.
Not only is Katie an inspiration to her blog readers but she is a wife and stay at home mom to two boys and four cats.
Girl Hero Katie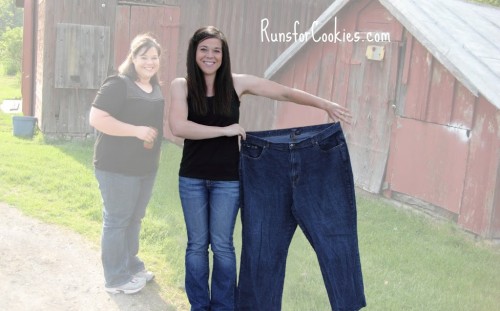 In 2009 you "decided to lose the weight and to get healthy once and for all". Was there a catalyst for this decision? How long did it take to lose 125 pounds?
My elder son, Noah, wanted to take the training wheels off of his bicycle, and he wanted me to run alongside his bike while he learned to ride the two-wheeler. I barely made it down the street before I was gasping for breath; I physically couldn't do it! I felt like a terrible mom, and I vowed that when it was my younger son's turn to learn, I would be ready. I started calorie counting, and eventually, exercising. It took 16 months to lose 125 pounds.
You counted calories right? Do you still count? I hear a lot of people talking about counting calories as if it's this horrible thing. (I don't think that.) Do you feel that way?
I switched back and forth from counting calories to counting Weight Watchers' Points (which is essentially the same thing). I think calorie counting is a great way to lose weight! I didn't have to eliminate ANY foods from my diet; I could eat anything I wanted, as long as I planned for it and counted it. In the past, I'd tried all the fad diets, but they were impossible to keep up with for the long term. Counting calories/Points is something I can do forever without feeling deprived.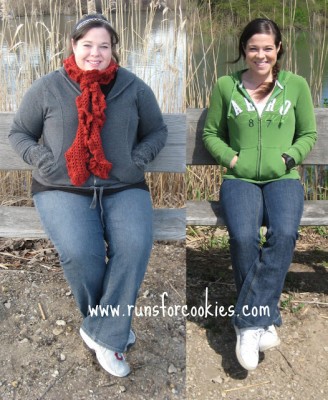 How did you family and friends respond to your decision to change your lifestyle?
At first, I think my family and friends thought it was "just another attempt" that I was making, so nobody took it too seriously. It wasn't the first time I'd tried to lose weight! Once my results became visible, and they saw that I was sticking to it for the long haul, they were very happy and encouraging for me. My sister called me every week to ask how it was going, and when I reached 100 pounds lost, she treated me to a makeover. When I reached my goal weight, my parents gave me $5 for every pound I'd lost, and I used the money to fly to Minnesota to run a race with my brother. I have a pretty awesome family!
Do you find losing or maintaining weight more challenging?
Honestly, it's pretty much the same. Losing weight was slightly more challenging because I was eating a little less than I am now, but the only thing that changed from weight loss to maintenance was the amount of calories/Points I was eating. Right after I lost the weight, my weight bounced up and down with about 15 pounds, because I had a very hard time adjusting to maintenance–I kept trying to eat "intuitively", where I didn't measure my food or count calories. But that just didn't work for me. I need more structure than that. Now, I finally feel like I have the hang of it!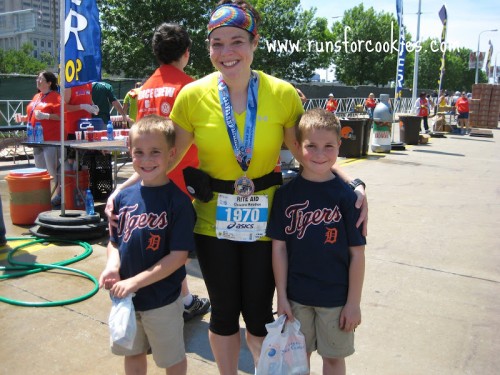 Can you tell us a little bit about how you took up running and why you love it?
I never imagined that I would one day call myself a runner. I was making a bucket list near the beginning of my weight loss, and I put a very ambitious goal (at the time) to enter a 5K race and RUN it. I'd never even run a mile before, so a 5K seemed nearly impossible. My friend Renee helped me get started, and she signed up for a race with me. She kept me encouraged to keep going, and somewhere amidst the training, I became hooked on running. I loved the way it made my body feel! I ran a 10K after that, then a half-marathon, and now, I've run two full marathons. Every time I get done running, I feel like I did something amazing for my body. And it allows me to eat more! 😉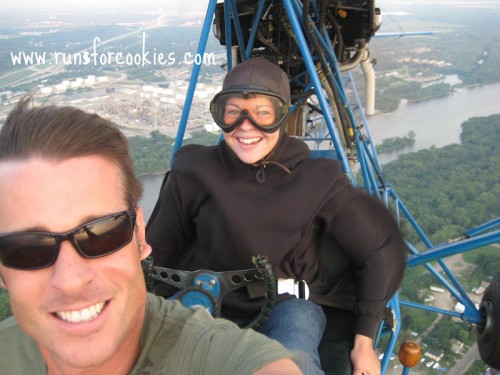 Getting fit clearly changed you on the outside. Has there been internal changes as well?
I always thought that if I ever got thin, I'd be very fun, loud, and outgoing; in reality, I'm still the same shy, introverted woman that I was before–but setting and reaching goals has made me see a whole new side of myself. I have much more confidence in what I can accomplish now, and I step out of my comfort zone all the time to do things I never would have before. I've even been on national television twice (The Dr. Oz Show in 2011 and the Today Show in 2013), which is something I never would have had the courage to do before I lost the weight! I also used to be terrified of flying, and after I'd lost 100 pounds, I faced my fear on a tiny little, two-seater, open-toppped, airplane. I almost threw up before getting on, because I was terrified, but I was SO excited afterward when I did it!
You have struggled with binge eating. I particularly enjoyed this post. Is binging still a struggle for you? Can you share a little bit of your experience in overcoming binge eating?
Binge eating is something I'm probably going to have to deal with forever, unfortunately. I've had long stretches of time without a single binge, but I'm always fighting the urge. Binge eating is something that relaxes me when I feel anxious or stressed, so I've had to find other ways to deal with that. I'm a much happier person when I'm staying binge-free, so I'm always trying to find ways to replace the binge eating. Right now, I'm six months binge-free, which I've written about here!
What motivates to continue of this health journey?
My blog readers! My blog readers continue to inspire me every single day. I recently started a series on my blog called "Motivational Monday", where my readers share what they've done in the previous week that made them feel proud. People have shared everything from walking their first mile to running marathons, to reaching weight loss milestones… and reading all the things they are doing makes me want to set and reach more goals for myself.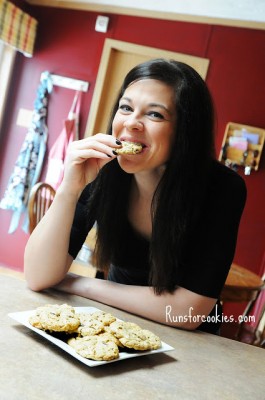 Any advice for others who are starting their own journey to improve their health?
My best advice is to only make changes that you're willing to live with forever. Don't give up your favorite foods to lose weight, because you know that you can't do that forever; likewise, don't vow to work out six days a week for two hours a day–that's unrealistic to maintain forever. I made changes that were do-able, and I just kept at it every single day! The persistence is the most important thing.
Thank you Katie for your honesty and sharing your story!!!!
You can connect with Katie on Facebook, Twitter, Pinterest, Instagram, and her blog, Runs for Cookies.
Hugs and High Fives,
Jenn
Keep up with my kettlebell workouts, real food recipes, and more in one of three ways! 1. Sign up to have posts emailed to your inbox. 2. Subscribe to the RSS Feed or 3. "like" Girl Heroes on Facebook. Simple dimple!
Journey with our family on the road at Newschool Nomads as we travel fulltime in RV through the United States!
Pin It