Girl Hero Suzi
After 5 years of shuffling papers and sitting at a desk answering phone calls, Suzi decided to follow her heart and make a career change. She left here job as an insurance agent to pursue her passion as a fitness instructor and hasn't looked back!
But perhaps what makes Suzi's story especially inspiring and unique is her determination to not let Fibromyalgia define her life. That's right, Suzi is a fitness professional who battles chronic pain but still comes manages to see the bright side of life!
Suzi is married to her best friend and they have two furbabies. Suzi describes herself as "an avid movie watcher, an obsessive reader, a Downton Abbey addict, a cheese loving fool and unfortunately for me probably the biggest klutz and the person with the worst "unfortunate" luck you will ever meet!" She chronicles her adventures (and misadventures) on her blog, Confessions of a Fitness Instructor.
Meet Girl Hero Suzi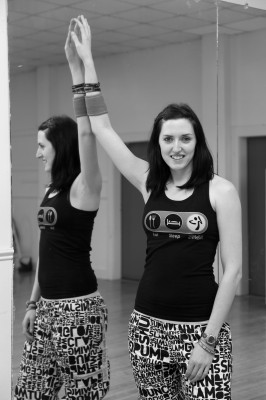 1. Your blog is called "Confessions of a Fitness Instructor" with the tagline "because being fit isn't about being perfect". Love it! Can you share a little more about the name…why you chose it and what it means to you?
I chose the name of my blog for two reasons, the first being a nod to one of my favorite authors (Sophie Kinsella – the author of "Confessions of a Shopaholic"), and the second because I felt my fitness class participants had a distorted view of my life.  I would hear them talking about french fries or something, and as I got closer they would say, "not that I eat french fries," as though I would disapprove.  I started my blog as a way to show people that while I live a life as a fitness professional, I still enjoy "bad" foods and I don't always want to work out.  At the time most of the healthy living blogs I knew about showed a very unrealistic version of a "healthy life" and I wanted to bring some realism back to the virtual table.
2. You were diagnosed with Fibromyalgia over 10 years ago. Can you tell us a little bit about Fibromyalgia? How does Fibromyalgia affect your life on a daily basis?
In a nutshell, Fibromyalgia is a disorder that causes widespread body and joint pain.  Many patients (myself included) also suffer from sometimes debilitating fatigue, insomnia and unfitful sleep.  There are many other conditions and symptoms that one with Fibromyaliga can experience, but those are the two big ones.
I am fortunate that I have been able to manage the worst of my pain through fitness.  Staying active really helps to diminish the symptoms considerably, but it never goes away completely.  Because of my disorder, I require more hours of sleep than the average person (9-10 hours/night) in order to function well, and because of my job I sometimes need more sleep than that in order to have enough energy to carry out my classes.  If I have a bad night's sleep, or am having a bad day/week due to joint pain it is hard to focus in my classes and I will make a lot of mistakes in choreography I've done hundreds of times before.  Fortunately, I generally only suffer from a bad flair-up 2-3 times/year.
3. Did you diagnosis affect your lifestyle choices regarding food and fitness? 
Shortly after being diagnosed I started seeing a Naturopath whom I credit with saving my life.  I walked into her office a zombie, for well over two years I visited her at least once/month.  Near the end of my treatment with her I was seeing her only once or twice/year.  It was a miraculous change.  Anyway, during those years I moved from eating a diet of largely processed and packaged foods to one that consists of mainly whole, unprocessed foods.  I discovered that my body doesn't function well on a diet heavy in animal proteins (though I'm not vegetarian, I generally eat meat only 1-2 times/week).  I also discovered I have a serious intolerance for MSG and that I cannot handle eating spicy foods.
As far as fitness goes, she was the one who encouraged me to start exercising.  I started off walking and doing workout videos at home, then moved into a "learn to run" program.
4. Have you always loved fitness? If not how did you discover your passion for fitness?
No.  Not in the slightest.  In fact I hated gym class.  The only exercise I enjoyed was swimming and tennis (and unfortunately I'm a terrible tennis player).
Aside from Fibromyalgia, I also have a lung condition.  I've experienced a number of partial pneumothoraces (collapsed lungs) due to a soft spot on my left lung.  My doctor told me it was unsafe for me to fly and I didn't want to live my life forced to only travel to places I could drive.  As I mentioned, I started exercising at the encouragement of my Naturopath, and I started running to try and strengthen my lung so that I would be able to fly.  Somewhere along the lines I discovered that when I exercised regularily I didn't need my medications for Fibromyalgia, and I started going longer and longer periods between problems with my lung.  It was after that realization that I knew I needed to make fitness a total priority.
5. You used to work a traditional 9-5 job. What made you want to switch to a career in the fitness industry?
I worked as an insurance agent.  The first problem was – I've always hated the phone.  And here I was talking on the phone all day long.  The second problem was I wanted to help people with my life, and being an insurance agent didn't make me feel like I was helping anyone.  The people I worked hardest to help were the people who were the most angry, and the people who deserved to be angry about something that happened were always the nicest.  There came a point when I simply couldn't handle it anymore.  Being stuck in an office all day on the phone listening to people complain about things that weren't even a problem was driving me mad.
It was one of those small windows in life where you have the opportunity to make a complete change.  I could stay in the room I knew or I could jump out the window into an unknown world.  I chose to jump.
6. What is your favorite part of being a fitness instructor?
There are two things that really stick out for me, one is seeing and hearing the difference I've made in someone's life.  When they tell me that after coming to my classes for 6 or 8 months that they are off their blood pressure medication, or they've lost 40 pounds it really validates that what I do is important.  And then there are the changes that only I see.  Standing in front of everyone I get to observe how everyone acts during class and can see the inward changes that have happened – people who are more outgoing, more self assured, more positive, and happier.  It really makes my heart smile.
The second thing I love is pretty superficial.  As a Zumba instructor I create a lot of my own choreography and there is something so magical about seeing an entire room full of people busting out choreography to a song that I made up one day while driving in my car, it's really pretty awesome.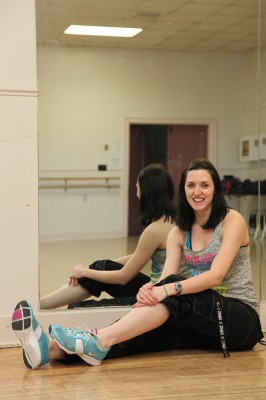 7. What does a typical week of workouts look like for you?
Well, I teach on average 12 classes/week.  My class schedule looks something like this:
Mondays: 2 Zumba Classes, 1 Strength Training Class
Tuesdays: 1 Seniors Fitness Class, 2 Zumba Classes
Wednesdays: 1 Zumba Class
Thursdays: 2 Zumba Classes, 1 Stretching Class
Fridays: 1 Zumba and 1 Zumba Gold Class
Saturdays: 1 Zumba Toning Class
On top of those, I try to fit in a few strength workouts of my own (generally Physique 57 DVD's), yoga and the occasional run.  Honestly though, this past week or so I've done nothing outside of my own classes.
8. What does a typical day of eats look like for you? Have you found any particular foods help with your fibromyalgia
Because my day it sort of upside down (I usually don't teach in the mornings, will have a class in the afternoon and then 1 or 2 classes in the evening) I normally sleep late (remember that 9-10 hours of sleep thing…) get up and have breakfast which is usually cereal or greek yogurt topped with sunflower, pumpkin and chia seeds.  I eat lunch around 1, and it often consists of homemade soup or pasta.  Then depending on the day I will either eat a snack late afternoon or have an early supper.  If it's one of my more busy nights, I will often not get home and be able to eat supper until 8 or 10 pm, at which time it's a free for all.  Basically anything I can find goes into my mouth at that point.
I find that a diet high in fiber and whole unprocessed foods help with my Fibromyalgia.  If there is a day or week where I find myself eating a lot of processed foods I can certainly feel the difference.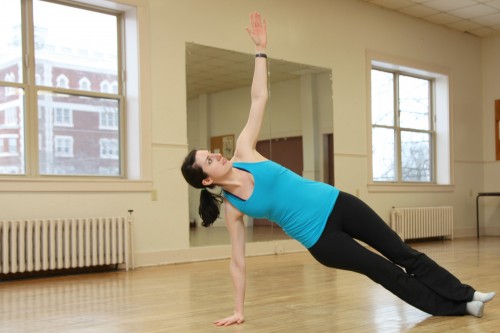 9. Are you working towards andy goals right now?
I have a few goals, one of them is to rebuild the strength I've lost these past couple years teaching so many cardio based classes.  It's really difficult to make myself to more exercise on top of my already crazy class schedule, but it's something I need to do.  Another it to rebuild my yoga practice.  That goes hand in hand with building strength, but I know I also need it from a health perspective.  Yoga is a magical thing, and anyone who does it regularly knows what I mean.  I miss that magic, I need it back – plus my hamstrings need the flexibility. 😉
With both of those goals in mind, my current physical goal is to be able to do an unassisted handstand.
10. Just for fun…if your life was a book what would be the title?
Misadventures in Unfortunate Luck.
I don't believe I have truly bad luck, but I instead "unfortunate luck".  If you were to divide the world into people who always have good luck, and those who always have bad luck I would fall into the bad luck category. However, if you were to then look at everyone in the bad luck category I would have the best of the bad luck. My lung collapses a number of times – but only 5% so they don't need to do anything scary to me.My car blows up on the highway – but just as I am slowing down for an off-ramp so it was very uneventful
I've got a million and one examples of my "unfortunate luck,"  but I think this post, Remember That Time I Went to Newark Airport, I wrote about when I went to BlogHer last year really sums up how my life generally goes!

One of my friends is always eager for me to go on trips because I always come home with crazy stories.  I've tried to tell her I would LOVE to come back sometime without any crazy stories, but that never seems to happen!
Suzi, thank you so much for sharing your inspiring story with us!
You can connect with Suzi on Facebook,  Twitter, Pinterest, YouTube, Instagram, and on her blog, Confessions of a Fitness Instructor.
Hugs and High Fives,
Jenn
Keep up with my kettlebell workouts, real food recipes, and more in one of three ways! 1. Sign up to have posts emailed to your inbox. 2. Subscribe to the RSS Feed or 3. "like" Girl Heroes on Facebook. Simple dimple!
Journey with our family on the road at Newschool Nomads as we travel fulltime in RV through the United States!
Pin It