My Week and the Wallowing Walrus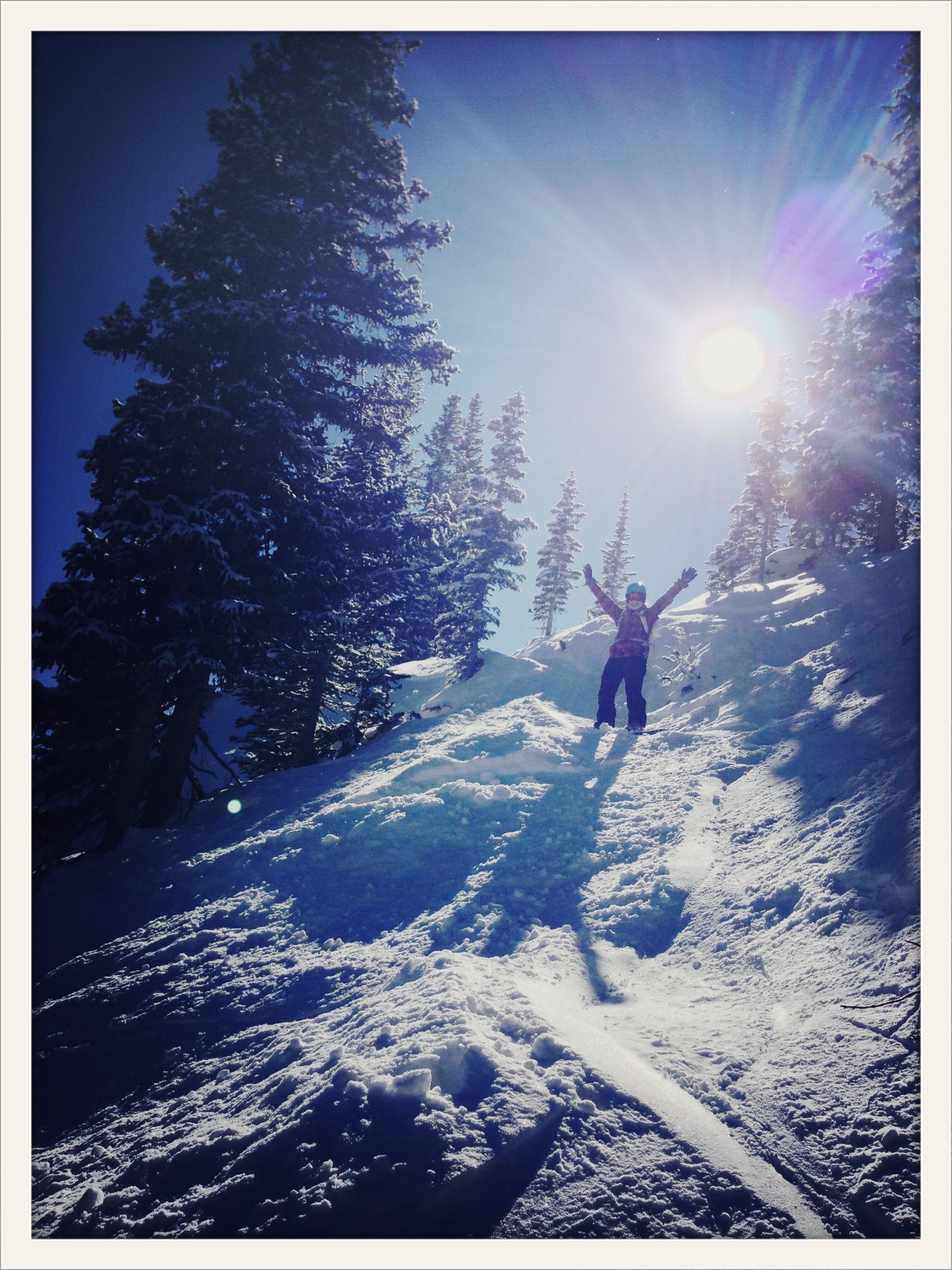 Since we have stopped moving, i.e., decided to spend the winter in Colorado, my weeks have become a little routine.
Last week there were a few twists to keep things interesting.
One
I tried my first black run on a snowboard. Despite my I-conquered-this-beast posture in the above picture, the run didn't go so well. It was an ungroomed run through the trees. Have you ever seen a walrus in a zoo or aquarium? Well you know how they move on land? That's how I look when I fall in powder on my snowboard. 
I should have learned my lesson. The week before I tried an ungroomed run under the lift and got stuck in a few feet of powder. I ended up wallowing around like a walrus in the snow shouting, "I. AM. NOT. HAPPY." to Brent who was further down the hill. I'm certain the people on the lift appreciated the entertainment. 😉 
Two
I tried hot yoga for the first time. It was a hot vinyasa class that was…well…really hot. I surprisingly enjoyed it as long as I wasn't thinking about other people's body moisture filling the air at an alarming rate. It also confirmed some imbalances and tightness I knew I have going on with my body. I'm considering taking more classes either at the hot yoga studio or at the recreation center. I'm torn because it seems the quality of the teachers would be better at the studio but the recreation center is more affordable. Hmmm….
I also have a whole new perspective on yogis. I always thought it was a bunch of "woo woo" people sitting around sniffing sandalwood seeing who could zone out the most or twist themselves into the smallest pretzel.
I was wrong.
There were some seriously strong girls in there. It was impressive, beautiful, and peaceful so I apologize to my yogi friends for my misconceptions. I definitely see more yoga in my future.
Three
For the first time in a long time, I stuck to my workout schedule. You know your life is exciting when you consider sticking with a workout schedule "a twist". 😉
Monday  – Strength Training and Walking
Tuesday – Snowboarding and Walking
Wednesday – Strength Training and Walking
Thursday – Snowboarding and Walking
Friday – Strength Training and Walking
Saturday – Walking (This was the day I also tried hot yoga)
Sunday – Walking
I've also decided to do at least part of my 10,000 steps a day with my boys. I had been doing a large part of them on the treadmill but then it hit me: why not spend time with them and help them to keep active rather than spend an hour and twenty minutes on the treadmill. Duh.
Anyway this was my week in a nutshell. I fully intended to edit another workout video but it got lost among homeschooling (It's like a job but without pay…not complaining…I feel very fortunate to be able to guide my boys education.), snowboarding, errands, cooking, laundry, cleaning the rv toilet, and all the other stuff that makes life glamourous.

I am hoping to get to it this week and I also have another Girl Hero to share so until then….
How was your week? What sort of workouts did you do? Have you ever tried yoga? Hot yoga? Any advice on deciding between the yoga studio and the town rec center for classes?
Hugs and High Fives,
Jenn
Keep up with my kettlebell workouts, real food recipes, and more in one of three ways! 1. Sign up to have posts emailed to your inbox. 2. Subscribe to the RSS Feed or 3. "like" Girl Heroes on Facebook. Simple dimple!
Journey with our family on the road at Newschool Nomads as we travel fulltime in RV through the United States!
Pin It