Consistency or Cutting Carbs?
My jeans are finally fitting better.
I haven't made an effort to lose weight since I trained for my RKC weekend. I'm generally pretty comfortable in my body (most of the time) but over the last year as we traveled I ate more calories than than I burned. Pretty simple.  I wasn't fat…not by a long shot…but I got to a point to where my jeans weren't fitting.
It happens.
I had to make the choice to buy new jeans or lose some weight.
So I decided to eat a little less and move a little more. I also decided I wasn't going to do anything extreme or follow any kind of "plan".
No cutting carbs.
No eliminating food groups.
I was just going to eat what I wanted but keep an eye on portions/calories.
And something amazing happened.
By moving more and eating a little less (I can pound a serious amount of food) I've been losing about a pound a week.
I haven't felt deprived once.
The majority of my food has been whole real food because nourishing my body is a priority regardless of my weight but I've been reminding myself a serving a almond butter isn't half the jar. 😉
Although I'll confess, up until a few days ago, I was even eating cookies, cake, and candy. (We wont' talk about the hot doughnut shop that's a short walk from the ski resort parking lot.) Keeping a food journal, an eye on calories, and having an accountability partner has helped me to eat those things in *GASP* moderation. It's no small miracle because moderation is my strong suit. 😉
Then few days ago, I decided I needed a "reset" because I was eating some sugar every day and decided to pass on sweets for the rest of this month. The sweets didn't seem to be slowing down my weight loss but considering my past sugar addiction I was fearful things would spiral out of control. I don't want to go there again.
Of course, the day I decided to pass on sweets (I like the word "pass" because it implies a choice and my choice puts me in the powerful position not the food.) a guy on the bus opened a box of Girl Scout Thin Mints and offered me one. When I said, "No thanks." He offered me three. Punk. I decided to pass because February is short but the satisfaction of the cookies is even shorter.
There has been no extreme exercising either. Although unlike my tendency to try extreme diets, extreme exercising has never been an issue. I just decided to get up off my butt and move more. I go snowboarding a few afternoons a week, do short full body workouts 2/3x a week, and walk an average of 8,400 every day thanks to the motivation my Fitbit provides. It's more than manageable. It's been fun.
All this to say (once again)
It's consistency that counts not perfection.
And
There isn't a magic plan.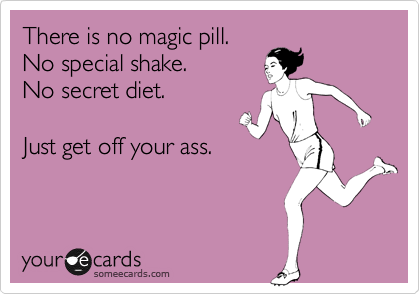 I've skipped workouts. I have had hot doughnuts.
But the difference is I didn't say, "Forget it. I messed up." Then blow off the rest of my workouts for the week and eat two dozen cookies a day.
I just made an effort to move more and eat thoughtfully consistently.
And it's working.
Hugs and High Fives,
Jenn
Keep up with my kettlebell workouts, real food recipes, and more in one of three ways! 1. Sign up to have posts emailed to your inbox. 2. Subscribe to the RSS Feed or 3. "like" Girl Heroes on Facebook. Simple dimple!
Journey with our family on the road at Newschool Nomads as we travel fulltime in RV through the United States!
Pin It