Short and Sweet Double Kettlebell Workout – Vermont
I've finally found time to edit another kettlbell workout. It's  sort of hard to believe that I have done a kettlebell workout in all but 9 states.
It's also hard to believe, now that we are in the middle of winter up here in the mountains of Colorado, that a few months ago I was working out in a tank top! Today it's windy and snowy and editing this video made me nostalgic for warm summer weather.
I shot this double kettlebell workout early in the morning at a wildflower farm in Vermont. Such a perfect start to a morning especially since we had a long day of driving ahead of us.
I used double kettlebells to increase the intensity since I didn't have much time and we wanted to get moving.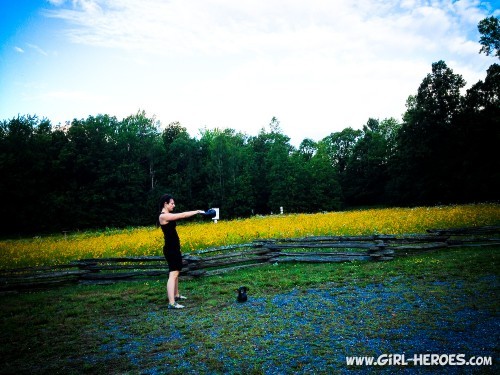 Double Kettlebell Workout Vermont
Part One
A. Double Push Press 7,6,5,4,3,2,1
B. Renegade Rows 7,6,5,4,3,2,1 (each arm)
Start with 7 reps (7 letters in Vermont ;-)) the first round. The second round is 6 reps. The third round is 5 and so on until you get to one rep of each exercise.
Part Two
Double Swings – 30/30 for 7 rounds
Set your timer at 30/30 for 7 rounds/minutes.
If you don't have two kettlebells or aren't ready for double kettlebell workouts, this one could easily be adapted by substituting single push presses, one arm rows, and single kettlebell swings.
Thank you to those of you who filled out my survey last week! It really helped me gain some focus with my site. Your comments were really helpful and it was good to see what you enjoy reading.  Kettlebell workouts, came in as the second most enjoyable posts after "Personal Struggles/Confessions" with everything else pretty close. That motivated me to find time this week to edit this video. I'm going to *try* to get all the states kettlebell workouts edited this winter while we are here in Colorado. The workout posts take me a lot time but it made me really happy to see that so many of you enjoy them. You can still take part in the survey if you want. It's anonymous so feel free to be honest. Thanks again for taking the time to fill it out. I got some great ideas from you and felt encouraged!
Do you prefer doing double or single kettlebell workouts? I prefer double kettlebell workouts myself but I've been going lighter lately because of a shoulder irritation.

 Alright have a fantastic weekend. We'll probably hang out with friends, go to church and snowboard.
Hugs and High Fives,
Jenn
Keep up with my kettlebell workouts, real food recipes, and more in one of three ways! 1. Sign up to have posts emailed to your inbox. 2. Subscribe to the RSS Feed or 3. "like" Girl Heroes on Facebook. Simple dimple!
Journey with our family on the road at New School Nomads as we travel full time in RV through the United States!
Pin It