Kicked but not Killed by the Invisible Giant
Last Wednesday, I awoke with a nasty cold that knocked me out and left unable to think clearly for a week. That wasn't the only bad news. In fact, my cold seemed minor compared to the California election results.
As you know by now, Prop 37 did not pass.
The disappointment was overwhelming. It was like getting kicked in the stomach by an invisible giant.
We weren't asking that GMOs be removed from the food system. All we wanted was a label.
A simple label.
A label that would allow us to easily choose. We still have that choice but it's going to take a little more effort. A little more research. A little more conviction.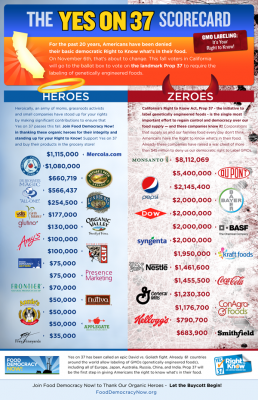 (source)
Or a lot more conviction.
People have the right to eat what they want.
But we also have the right to know.
Sometimes it takes defeat to realize how much you really do care.
The good new is that is was close. 4,709,949 want to know what's in their food. (Here are the official results of prop 37)
I really would like to know why 5,287,591 don't want to know? Really. I ask this in ernest. When was the last time a huge corporation spent over 45 million advertising dollars in one month to protect us?
It really was David vs. Goliath but David came out strong.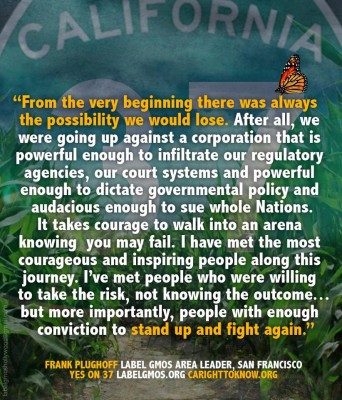 (Source)
Prop 37 was more than a label. It was about the people's voice being heard. That our voice couldn't be drowned out by the drone of the corporate machine. 
Still I have hope.
Because I believe with all my heart that we are not guinea pigs.
And
I believe in the voice the people.
Thank you California for taking a stand for our right to know.
Hugs and High Fives,
Jenn
Keep up with my kettlebell workouts, real food recipes, and more in one of three ways! 1. Sign up to have posts emailed to your inbox. 2. Subscribe to the RSS Feed or 3. "like" Girl Heroes on Facebook. Simple dimple!
Journey with our family on the road at New School Nomads as we travel fulltime in RV through the United States!
Pin It