Rock'n and Roll'n with the Rumble Roller: A Review
If I was going to invest in just two pieces of equipment it would be a kettlebell and a foam roller. Thankfully, we have the space for a little more equipment in our RV but if I had to narrow it down to just two a foam roller would be one of them. Recently, I was sent the Rumble Roller to review.
Over the last few years, I've come to believe that foam rolling is not optional. It's sort of like like flossing teeth, I may or may not love it but it's worth the effort and time. What a a shame to go to the trouble of building stronger muscles and connective tissues and then not take care of it all.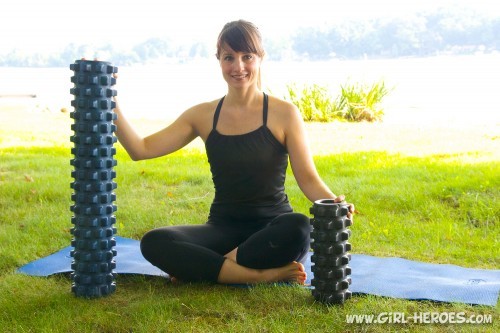 My experience with the Rumble Roller.
Before using the Rumble Roller I was using a conventional smooth roller. It was serving its purpose but it seemed like no matter how much I used it (along with mobility drills) my achey hamstring (I pulled one of my hamstrings when I was doing taekwondo) would not stop acting up. I've been using the Rumble Roller for over a month now and, I kid you not, the pain in my my hamstring has all but disappeared. Coincidence? Possibly. All I know is my troublesome hamstring has not been troublesome since I started using the Rumble Roller.
Facts About the Rumble Roller
The Rumble Roller is water proof, latex free, comes in two different sizes and densities. The full size Rumble Roller is  36″ long with 200 bumps. The compact Rumble Roller is 12″ long with 64 bumps. It also comes in two different densities. The blue Rumble Roller is the regular density roller. The black Rumble Roller is 35% percent more dense than the blue Rumble Roller.
Here are some of the questions I had about the Rumble Roller and what I found out by experiencing it myself.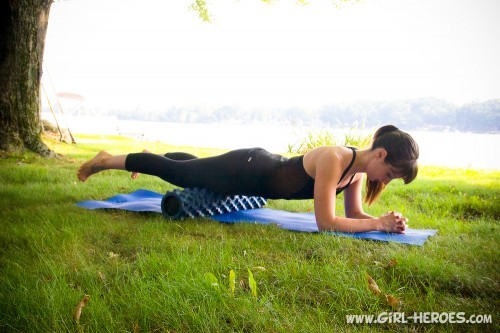 What makes the Rumble Roller different from a traditional roller?
Traditional foam rollers are smooth. The Rumble Roller is covered with flexible bumps or nubs that really dig into, stretch, and manipulate the tissues simliar to the thumbs of a masseuse. Whereas, unless you are very skilled at foam rolling, a smooth roller compresses the tissues rather than stretch it in multiple directions. You can really feel the bumps kneading the tissues.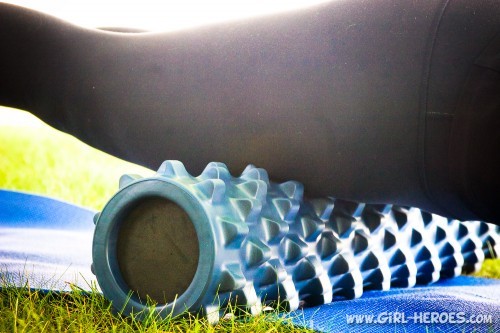 Does it hurt to use the Rumble Roller?
Using the Rumble Roller is definitely more intense than using a traditional roller but not what I would call "painful". The first week or so I did experience some discomfort but as I kept at it the discomfort subsided. This tells me that not only is foam rolling effective but my Rumble Roller was getting to tissue that I was missing before. Now it's just as pleasurable to use (if not more-so) as a traditional foam roller.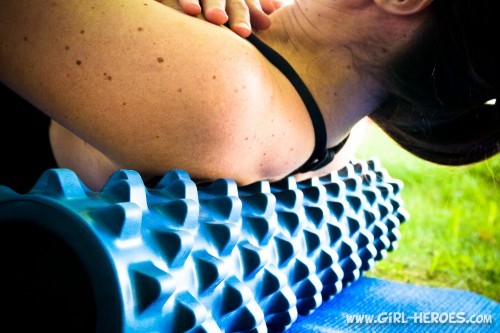 Is the Rumble Roller hard to keep clean?
It's a slightly harder to keep wipe down than a regular roller because of the bumps, but it's molded with an antimicrobial that stops the growth of bacteria. This is good for personal trainers who might use it with multiple clients.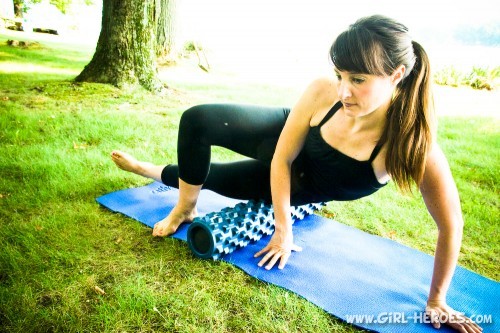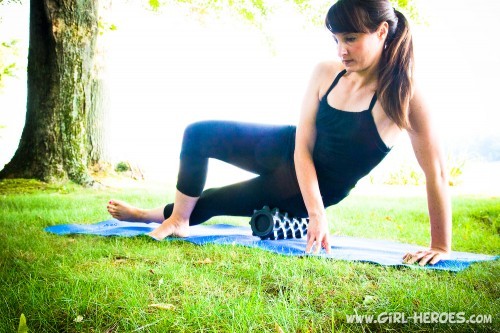 What size of Rumble Roller should I get?
I was sent both sizes and I prefer the longer one because it's easier to move around on.  You can see in the pictures the difference in rolling my IT band. There is a lot more space on the full size model. Also with the compact Rumble Roller you have to roll one leg at a time when doing calves, hamstrings, etc. If you are going to use it in one place I'd get the full size.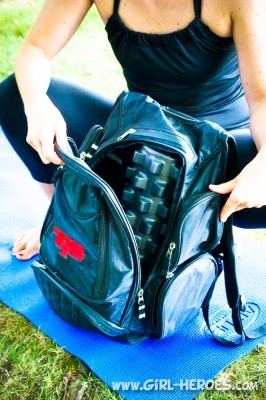 However, for traveling the compact Rumble Roller is great. It fits right into a normal sized backpack. Currently, I store the larger Rumble Roller on the back of my couch to use in the RV and my smaller one in a backpack to take with me to different workout locations.

Should I get the blue or black Rumble Roller?
From the Rumble Roller site –
"For most people, including professional athletes, the regular density (blue) RumbleRoller is more effective. Its bumps are more flexible and more actively grip and manipulate soft tissue. The bumps on the extra-firm (black) RumbleRoller are considerably stiffer, and give it a "spikier" feel.
The jeopardy of going too firm is that it may be too painful — not too painful to use, but too painful to use correctly. For best results, you want to keep the muscle you're massaging relaxed and pause long enough on each trigger point to allow it to release.
You may prefer the black RumbleRoller if you're primarily using it on thicker muscles like glutes or hamstrings, are trying to dig deeply in around the hip capsule, are working on scar tissue from prior surgeries, or are accustom to rolling on PVC pipe. Otherwise, we strongly recommend the blue"
I was sent both and my experience was right in line with their advice. I loved using the black one on my hamstrings, my recovering hamstring in particular. However, I really do think the blue one is the best option for most people.
Alright, so these were the main questions I had before using the Rumble Roller. Rumble Roller has a very thorough FAQ page that will answer any other questions you may have about the Rumble Roller or feel free to ask in the comments and I will do my best to answer.
Do you foam rolle regularly? Have you ever used the Rumble Roller and, if so, what has been your experience?
Hugs and High Fives,
Jenn
Keep up with my kettlebell workouts, real food recipes, and more in one of three ways! 1. Sign up to have posts emailed to your inbox. 2. Subscribe to the RSS Feed or 3. "like" Girl Heroes on Facebook. Simple dimple!
Journey with our family on the road at New School Nomads as we travel fulltime in RV through the United States!
Pin It