Grill Hero's Sweet and Tangy Halibut
If you can see past the smog, keep your sanity in traffic, avoid gangs, and don't mind earthquakes then southern California is a pretty great place to live.  Not only do we have amazing weather but in our smallish town, we have almost two Trader Joe's (I say almost because one is being built), multiple CSAs, numerous farmer's markets, a locally owned but large health food store, and we can buy fish right off the boat.
Even if you are not out of touch with the majority of the country (I can say that I'm from Indiana.) can't buy fish off the boat, you can still make this delicious and light grilled halibut that my husband, who from now on will be referred to as, Grill Hero, made last week despite the mayhem moving has caused.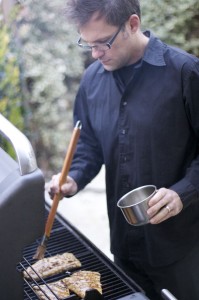 Grill Hero's Sweet and Tangy Halibut
2 Pounds of Halibut (or other white fish)
2 Tbs Butter
2 Large Garlic Cloves
2 Tbs Soy Sauce
1 Tbs Maple Syrup
Juice of 1/2 Lime
1/2 Tsp Ground Pepper
1. Fire up the grill.
2. While the grill is getting hot, melt butter and mix together all the rest of the ingredients.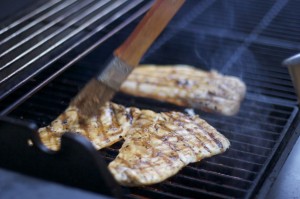 3. Grill fish over a medium/hot grill basting like crazy.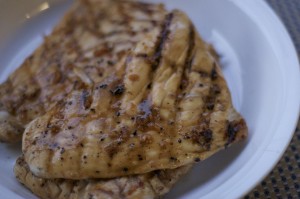 Fish is done when it is solid to the touch, opaque, and flakes easily.
Delicious.
Serves 4
Hugs and High Fives,
Jenn
If you enjoyed this post please Subscribe to the RSS Feed.
or
Sign up to have posts emailed to your inbox.
Pin It