Chicken Salad with Strawberry Tarragon Dressing
I live in Southern California and with that comes pollution, earthquakes, smog, fires, mudslides, extreme politics, gangs, and bad drivers but it's all worth it.  For the strawberries.
I think strawberry season in California for me is what manna from God in the wilderness was for the Israelites.  Other people feel the same way because we have festivals devoted to the berry.  I grew up in Indiana and I don't remember having "corn" festivals but maybe we did.  Anyway it's strawberry season here and I'm lovin' it.
Put together this simple salad the other day and it was….ummm….I'm mad.  Rachel Ray took all the annoying words I'd like to use.  Oh well…this salad is really really good if you like strawberries.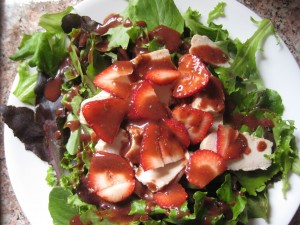 Salad
2-4 cups of mixed greens  (I used a baby lettuce mix.)
4 oz of grilled chicken (I almost always keep some leftover chicken.)
1 cup of strawberries – sliced
Strawberry Tarragon Dressing
8 strawberries
4 tbs balsalmic vinegar
2 tbs olive oil
1/8 tsp dried tarragon or 1/4 of fresh – finely chopped (I used dry b/c it's what I had)
Put the strawberries in a blender or mini-chopper and process until smooth.  Add the rest of the ingredients and do one more quick swirl.  Drizzle over your salad.
This makes 4 servings (dressing only).  Approximately 82 calories, 0g protein, 5g carbs, 7g fat per serving.
xoxo
j
Pin It