Seared Tuna with Sweet-n-Sour Spinach Salad
I happen to love chicken and will often go for days having meal upon meal of chicken.  Even so sometimes I need a change. The other night was one of those nights so I ran to Trader Joe's and splurged on sashimi grade ahi tuna. We seared it and I threw together a super simple salad with ingredients I had on hand. My husband (whose is somewhat of a "foodie") kept commenting on how much he loved the salad in between many low pitched "mmm"s.  (Man I love that guy.)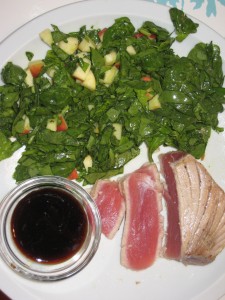 Seared Tuna 
8-10 oz piece of sashimi grade ahi tuna
Here is a link on how to sear tuna on the stove.
Or you can seared it on the BBQ like we did.  Brush the fish with oil and season it with sea salt.  Sear for on a VERY hot grill for about 1 minute each side.  
Sweet-n-Sour Spinach Salad
4-6 cups of fresh spinach – chopped
1 apple – diced (I like fuji or pink lady)
Dressing
2 tbs rice vinegar
1-2 tsp of wasabi paste (depending on your taste)
1 tsp toasted sesame oil
1 tsp agave nectar
Whisk together the ingredients for the dressing and toss with the spinach and apple. Serve with the seared tuna and soy sauce with wasabi for dipping.
Makes 2 servings Approximately (tuna and salad) 247 calories, 28 g protein, 24 g carbs, 4 g fat per serving.
As I was searching for a "how to" sear tuna link I came across this Seared Tuna Steak w/ Avocado and Cilantro Lime Dressing recipe.  Ummm….YUM.   I'm printing it out and giving this a try next time I want something other than chicken.  Like next year.
xoxo
j
Pin It