Stuffed Collards
One of my favorite foods is stuffed grape leaves or dolmas.  Problem is I don't get grape leaves in my CSA box but I do get collards.  A lot of collards.  Which leads to my second problem,  I'm not crazy about collards.  Which leaves me with two options throw them out or get creative.  I scored when I made my I Can't Believe They Are Collards Veggie Patties because, well, I still can't believe they are collards.  I scored again with this recipe.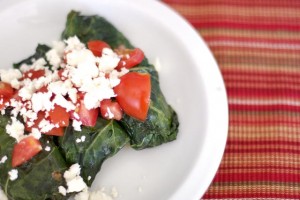 Stuffed Collards
1 lb of Ground Beef (I prefer organic grass fed)
1/2 Large Onion (finely chopped)
2 Cloves Garlic (minced)
1 Tbs Fresh Mint (minced)
2 Tbs Tomato Paste
1/3 Tbs Dried Oregano
1/4 Cup Water
Sea Salt
Pepper
Fresh Tomato – Optional
Feta – Optional
1. Put water in a large pot and bring to a boil.
2. While you are waiting for the water to boil, sauté the onion, garlic, and beef in a separate pan.  I suppose if I  wasn't always looking to cut corners was a real cook, I would sauté the onion in some olive oil  or something like that until it began to soften.  Not me . I throw it all in a pan together and go!
3. Add the mint, tomato paste, oregano, water, salt, and pepper to the meat mixture. Lower the heat and let it continue to cook. Stirring occasionally.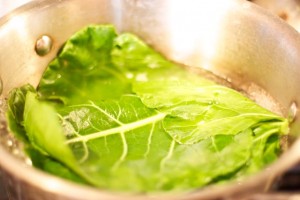 4. While the meat is finishing up cook the collard leaves by dropping them into the boiling water 2 or 3 at a time.  Let them boil for about 30-60 seconds until they are slightly wilted.  Place on a plate to drain.  Continue until all the leaves have been blanched.  (Is that what this is called?)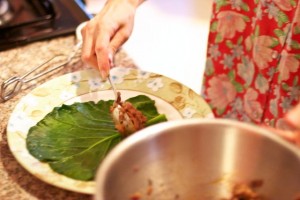 5. Put cooked meat in a bowl.  Fill the collards with the meat mixture by scooping some of the meat into the lower center of the leave, rough side of the stem facing up.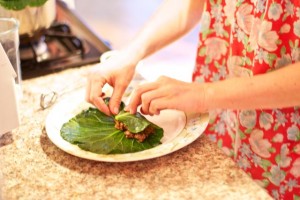 Then fold up the bottom.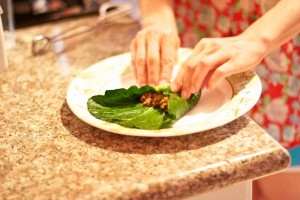 Followed by the sides and roll.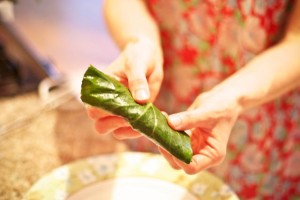 Like a mini burrito.
Or sushi.
Sort of.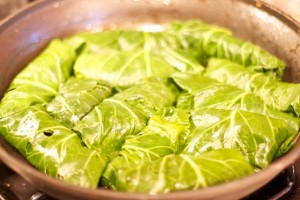 6. Return, fold down, to the pan (the one the meat was cooked in).  Cook over low heat a few additional minutes .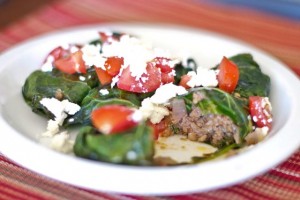 7. Remove and top with fresh tomatoes and feta.
Yum.
I can't believe they are collards!

Hugs and High Fives,
Jenn
If you enjoyed this post please Subscribe to the RSS Feed.
or
Sign up to have posts emailed to your inbox.
Pin It