The Wild Abandon of Women Who Love Themselves.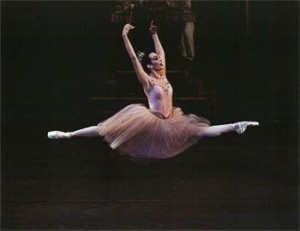 I'm not a disordered eater nor am I a ballet dancer (although I don't mind pretending I am in the kitchen) but today an article about a recent controversy regarding a New York Times critic and a NYC ballerina's weight caught my eye. In a recent review, Alastair Macaulay said, "Jenifer Ringer, as the Sugar Plum Fairy, looked as if she'd eaten one sugar plum too many; and Jared Angle, as the Cavalier, seems to have been sampling half the Sweet realm."
Rather than talk about what was an insensitive (and superficial in regards to art) comment.  It was.  Or talk about how Jenifer Ringer is not fat.  She's not.  I'd like to talk about Macaulay's and Ringer's follow up comments and how they relate to us.
A few days later Macaulay followed up by saying, "If you want to make your appearance irrelevant to criticism, do not choose ballet as a career. The body in ballet becomes a subject of the keenest observation and the most intense discussion. I am severe — but ballet, as dancers know, is more so."
So apparently, he thinks since she has chosen to be a dancer she has chosen to put herself in a position to have her appearance criticized.
It's easy to point the finger at Macaulay.  I do.
But then I wonder if I'm guilty of the same thing.  Especially when it comes to critiquing myself as a fitness trainer , as a food/fitness blogger, and as a woman. (Even though I don't have much of a choice regarding the latter.)
Ever since I started blogging about health and fitness I've felt pressure, albeit self imposed pressure, to maintain a certain physical standard .  While my standard is far from the standard of a ballet dancer, it is, still a standard nonetheless. Thankfully, I've embraced and learned to love (most of the time) a lifestyle that makes maintaining my current level of fitness and body composition relatively easy.  However, I wouldn't be being honest if I said I haven't had days where I felt like I've ate one protein bar too many and feel like a sham of a blogger because of it.
However, I choose to take the follow up comments of Jenifer Ringer to heart.  On the Today show, she responded with grace and beauty, not unlike her art, saying,  "We (The NYC Ballet) have every body type you can imagine.  We have tall, we have petite, we have athletic, we have womanly, we have waif-like, we have every body type out there, and they can all dance like crazy and they're all gorgeous."
I'd like to expand on what she said to include all women of all types.  We are all gorgeous and we can all dance like crazy, maybe not with the grace of a New City Ballet dancer, but with the wild abandon of women who love themselves.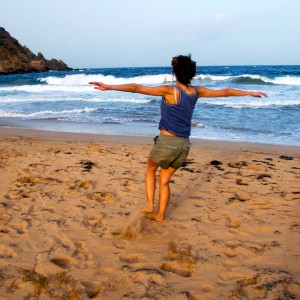 (source)
What do you think? We could change Macaulay's statement to fit variety of professions that, like dance, involve but are certainly not limited to the superficial.  "If you want to make your appearance irrelevant to criticism, do not choose _______ as a career."  Aesthetician. Hair stylist.  Actress. Personal trainer. Cosmetic surgeon. Model.  Dietician. Make up artist. Fashion designer. Fitness blogger.  (In my case career would be "hobby".)  Fill in the blank.  Do any on you have professions or hobbies where you feel you might be judged by appearance?
Did anyone else read this article and wonder why Macaulay's comment about Jared Angle didn't gain half the attention?
Are you your own worst critic?  If so what are you doing to quiet that critics voice?
Please don't forget to read my review of The Great Fitness Experiment book and leave a comment to win your own copy!
Have a fabulous day and don't forget to dance with abandon.
Updated to add: Unbeknownst to me, my friend Deb, from Smoothie Girl Eats Too did a post on the same topic today.  (Great minds think alike.) Hop on over to her site for more thoughts on "Al" and to see what she's getting her cat for Christmas!
Hugs and High Fives,
Jenn
If you enjoyed this post please Subscribe to the RSS Feed.
or
Sign up to have posts emailed to your inbox.
Pin It