Move It Monday
I haven't mentioned it because I try not to complain to you guys but I have had a pulled hamstring and some serious lower back pain the last few months.  As a result, I had backed off and modified some of my training.  During my Thanksgiving vacation, I took it easy and stuck with light kettlebell work, videos on Exercise TV, (I would sooo love to make an exercise DVD of my own someday!), and lots LOTS of stretching.  All of it paid off because my leg and lower back are now pain free.  (I'm going to try and do a post on getting rid of the pain in my lower back soon.)  So this weekend, I did the first high intensity workout in almost 2 months.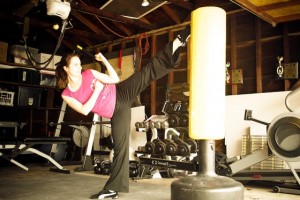 Part One
Descending Rep Ladders – Pull Up/Clean and Press
Pull Ups 5
Double Clean and Press 5  (12kg/26lb bell)
Pull Ups 4
Double Clean and Press 4
Pull Ups 3
Double Clean and Press 3
Pull Ups 2
Double Clean and Press 2
Pull Up 1
Double Clean and Press 1
Repeat 2x.  Total of 30 pull ups and 30 clean and presses.  Took roughly minutes.  When I couldn't do a strict pull up (which, sadly, after a month of light work wasn't long), I switched to negatives.  (Jump to the top of a pull up position and slowly lower yourself.)
Part Two
I set my gymboss on 30 second intervals.
30 seconds of kb swings (20kg/44lb bell)
30 seconds of rest
30 seconds of sparring the bag (kicking the crap out of an imaginary person)
30 seconds of rest
Repeat 10x for a total of 20 minutes.
Oh. My. Goodness.  This was so fun.  Want proof?  The picture at the top?
Posed.
This is what I really looked like!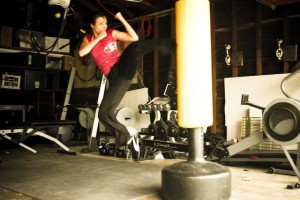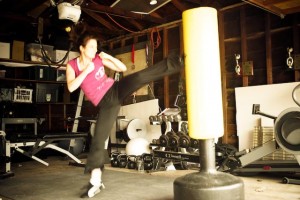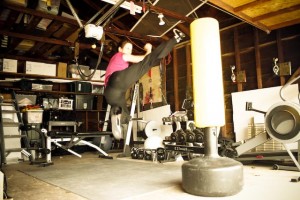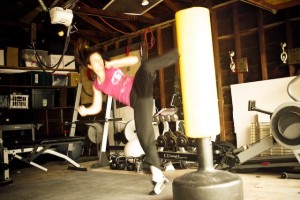 And I wonder how I pulled my hamstring. 😉
Hope you got in an awesome workout this week!
Hugs and High Fives,
Jenn
If you enjoyed this post please Subscribe to the RSS Feed.
or
Sign up to have posts emailed to your inbox.
Pin It