Get buzzed! – The Benefits of Bee Pollen
Over the years, I've moved away from the regular use of protein powder.  I still use it for the occasional bowl of "cookie dough" or a shake but, overall, I make the effort to get my nutrition from whole foods.
Recently, I put together this simple power breakfast (or pre-workout meal) when I was training for the RKC.  I was looking for a substitute for creatine.  (Creatine is involved in the production of energy and is mostly stored in the muscles.  It has been shown to increase performance during activities of high intensity and short duration such as weightlifting allowing for greater strength gains.) I was looking for a substitute because creatine, one, sort of freaks me out and, two, it can cause your body to retain more water than usual.  Being so close to RKC snatch test weight cut off, I couldn't risk gaining an ounce so I decided  to try bee pollen, the substance that sticks to bee's bodies as they fly from flower to flower.  There were quite a few brands to choose from but I opted for the raw local one found in the refrigerated section because I'm a sometimes consciousness consumer like that, yo'.  😉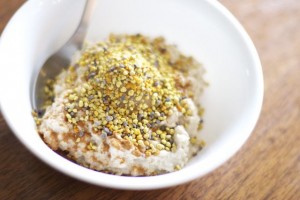 Get Buzzed Breakfast Porridge
1/2 cup old fashioned (not instant) oats
1 tbs whey
1 tbs raw honey
1 tbs raw local bee pollen*
cinnamon to taste
sea salt to taste.
1. Soak the oaks overnight in filtered water and whey.
2.  In the morning, add  water and bring to a boil.
(I boil water first in a tea kettle and then add it to the oats.  Helps keep the oats from burning on the bottom of the pot.)
Turn off the heat and let sit covered for about 5 minutes.  Super easy.
3. Add the honey and bee pollen.  Optional sprinkle cinnamon and salt to taste.
*Do not start with a full tablespoon.  Take a few granules first to test for allergic reaction and build up to one tablespoon.  It should be noted that some recommend less.  IMPORTANT: People with known bee allergies SHOULD NOT consume bee pollen.
The month leading up to the RKC this became my breakfast of choice (I ate this the morning I passed one of my practice snatch tests with the 35 lb bell) and the morning of the RKC, I ate a tablespoon of bee pollen.
Like most "super foods", there are a lot of claims surrounding bee pollen.
Health Claims Surrounding Bee Pollen
-Considered a nutrient dense food containing many amino acids, vitamins, minerals, and enzymes, protein, carbohydrates, and essential fatty acids.
-Reduces allergy symptoms  (Another reason to buy local pollen)
-Increases strength, endurance, and energy
-Improves digestion due to the enzymes
-Reduce cravings
-Stimulates metabolism
-Increases fertility
-Decreases LDL and increased HDL cholesterol
-Prevents and treats diseases by decreasing the free radicals due the the high antioxidant content
-Prevents premature aging
-And more
You get the point.  It's supposedly a super duper food.
While, I am one who wants to believe the claims I'm also somewhat skeptical.  I have not for certain experienced any of these benefits firsthand.  I think it has had an effect on my strength and endurance but it may be just a placebo effect. Placebo effect or not, I have since made bee pollen a regular part of my diet because of its stellar nutritional content.
If oatmeal is not your thing, it can also be added to smoothies, put on toast with nut butter, or gulped down plain in a glass of water.  Yes, I do this.
If you are interested in some further reading these were some of my favorite articles.
Guide to Superfoods – Weston Price Foundation (Love this foundation.)
The Use of Bee Pollen as a Superfood – Dr. Mercola
Sport Supplements – Peak Perfomance (An opposing opinion to  some of the claims.)
Does anyone else eat bee pollen?  How do you feel about "super foods"?  Anyone have any other ideas how to eat it???
Hugs and High Fives,
Jenn
If you enjoyed this post please Subscribe to the RSS Feed.
Sign up to have posts emailed to your inbox
Pin It