A Family That Kicks Together Sticks Together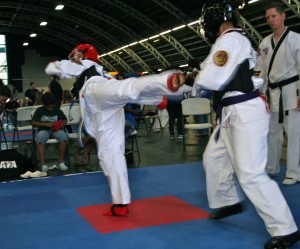 We are back from a long weekend out of town.  We drove up north to spend the weekend with good friends and attend a taekwondo tournament.
Over the weekend we also visited a small local dairy farm, ate the most amazing Puerto Rican food, and watched Napoleon Dynamite.  (I love that movie.) It was a super chill weekend aside from the tournament which I think will take 5 years off my life by the time the season is over.  Me?  Stress much?
Our boys did well.  Thing 1 got a 4th in forms and a 3rd in weapons.  He lost his first sparring match by one point and, therefore, didn't advance to the next round.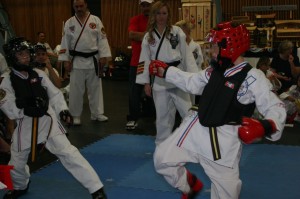 He was disappointed but kept a good attitude.  We talked about how that is the most important and the most challenging aspect of competing.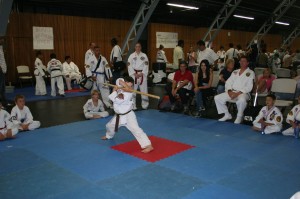 Thing 2 got a 3rd place in sparring and a 2nd place weapons. The judges made some "funny" calls while Thing 2 was sparring.  It took every ounce of self control to not be one of  those parents. You know the parents who act like their entire net worth is resting on a little league game.  Thing 2 was bummed but he was also tired and hot so I'm not sure how much was discomfort and how much disappointment.
After the boys were done it was time for the mommy show.  There were 10 women in my ring.  I got 3rd place in forms and 1st in sparring.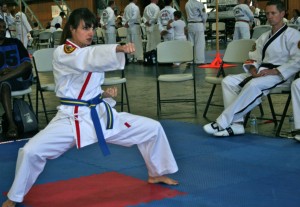 I didn't know I could be even more intense.  Like last time, you have my permission to make fun of me!
I didn't do weapons because my nunchuck skills, like Napoleon's, are not quite up to speed.  Don't worry, I'm working on it because every woman in her 30s needs to have some nunchuck skillz, yo'.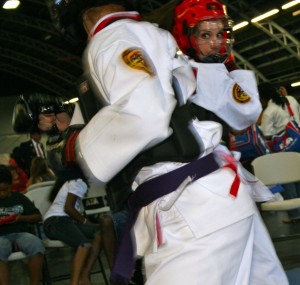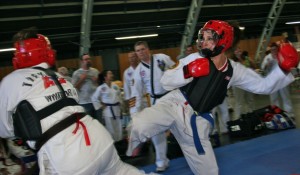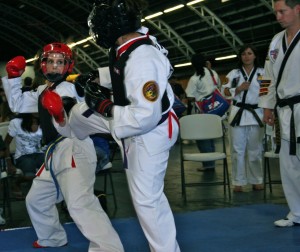 Much to my relief MMA Mama wasn't there.  Our next tournament is in a week and a half and I'm pretty certain she will be there.  Better get some shin guards.  And some Xanax.  😉
Here is my crew and I with our medals. I love my guys!!!!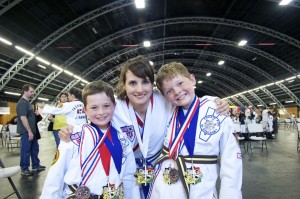 I'm so excited!  Tomorrow, I am featuring another Girl Hero!  Can't wait! After all celebrating women and their accomplishments is the reason I started this blog!
Hugs and High Fives,
Jenn
If you enjoyed this post please Subscribe to the RSS Feed.
Sign up to have posts emailed to your inbox
Pin It