Girl Hero Cherie
Every girl has a story to tell and sharing those stories is by far my favorite part of blogging.  So when Cherie wrote me telling me she was making her own figure competition suit, something only crazy people do, I had to know more about her.  I'm glad I asked because I just love Cherie's "can do" attitude and confidence!  I think you will too!!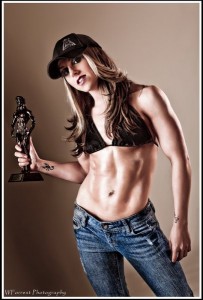 "If she can do it, why can't I?"
One day I was browsing the web looking for motivation to start working out again, (I just didn't have the drive or desire to get started), when I came across a transformation that totally inspired me!!!! Her name was Danielle Reutter and she had entered a figure contest coming in 1st place.  She had also had a baby around the same time I gave birth to my little boy and she had done all this within a 4 month time period.  At first, it seemed totally impossible but then I thought- if she can do it, why can't I? So a year after having my baby, I decided to compete in a figure competition.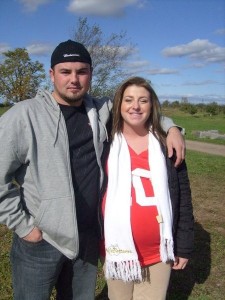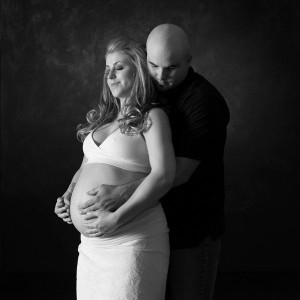 I must say it felt like everything was going against me.  I was overweight, out of shape, had very little time or money to invest and did not know where to begin my figure competition research. I just knew that doing a competition would give me the motivation I needed to reach my goal of getting in the best shape possible after gaining over 70 pounds during my pregnancy.
The first thing I started to think about was a suit. I knew I needed one but, as I it turned out, I needed three suits for my particular competition. I started looking online and found out figure competition suits are priced anywhere from $100- $4000!!!! I was shocked.  I looked for someone who made these suits in my area—-NO ONE!!!   Since, I don't use a credit card I knew ordering online wasn't an option and I didn't have near that much much to spend, anyway. Durnig my internet search I came across Girl-Heroes and read Jenn's story.  I found out Jenn had made her own figure competition suit and it turned out beautiful. (Thanks Cherie!) Again, I thought- if she can do it….why can't I?
Once I decided I could make my own suit, I researched "the ideal figure competitor look" and decided  which parts of my body I needed to concentrate on.  I knew I needed to gain muscle and lose body fat but there was something missing from the equation….THE GYM!!!  Recently, I had moved to a rural area without renewing my license so I  had NO ACCESS to a gym (crazy eh?)! SO how the heck was I going to get the body of a figure competitor?? Well, a few months before, I had purchased p90x but hadn't stuck with it. Now I knew I had to get my butt in gear and follow through with the program if I wanted to get up onstage.  It seemed like the best choice for me to get some hard workouts in.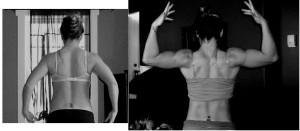 People always ask- How did you ever mange to make the time to workout when you have a new baby??? I MADE the time. I was very determined. I would get up at 6am (an hour before my baby wakes up) 6 days a week to do my morning cardio.  When my baby went down for a nap, I would do my weight training in my living room.  In the afternoon, I would take him on a 30 minute walk!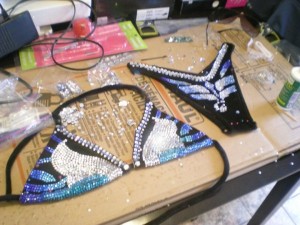 Now back to the suit. I found a suit pattern that was similar to the figure competition suits through Jenn's how to make your own figure competition suit post.  I was able to alter the pattern a bit to make the suit fit right for the stage. I bought 1 yard of black velvet swimsuit material, 6 meters of 1/4 inch black elastic, some thread, and I was off! Once I finished making the suit, I went to Michaels Crafts, Walmart, and Atlantic Fabrics to buy gemstones to make the suit look all "fancy". I looked at many suit designs and finally based my design of of one I liked. It took MANY MANY hours to finish the suit, as I had thousands of stones to glue on by hand. (Which by the way I used Gemtac adhesive to glue the stones on.)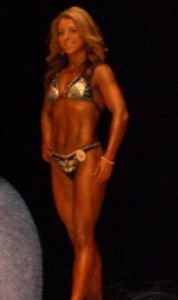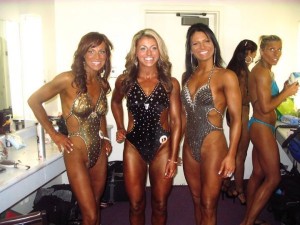 Once I completed my two piece suit, I needed to start on my one piece. I could NOT find a pattern for this, so I  came up with my own design. This took many hours of trial and error but I eventually finished the suit and just needed to glue the stones on- which I worked on right up until the night of the competition.  I also made my final suit. Just a plain black pre-judging suit (which was a breeze compared to the other suits), as I used the same pattern as my stoned 2 piece, but I did not need to glue any gemstones…THANK GOODNESS!!!
About 3 weeks before the competition, I met with a posing coach to make sure I had the poses correct. He critiqued me and it really helped just to meet with him for an hour. It was also helpful to look on YouTube, and anywhere else on the web to find out how to pose correctly. I then wrote Danielle and told her my story.  She took the time to write up an individual diet for me to follow to maximize my results during my final week of training before the show.
I was so intimidated this entire time- even though I was training hard and had researched everything. I knew that my competitors were very experienced, had been doing this for years, and had an advantage- especially since most of them go to a gym…lol!! I was nervous also about being on stage or tripping in falling in my high heels!!! Actually, during the show I had an incident during pre-judging. I was putting on my suit and the hook snapped off !!!! Luckily, I had brought a needle, thread and an extra hook. I was able to sew the hook on in time but forgot to put my number back on before being called out again.  It was embarrassing, but I was able to pull it all off.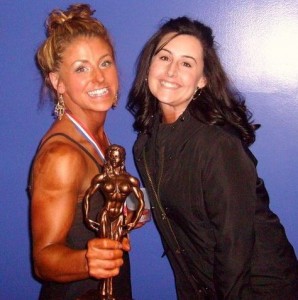 In the end, I competed against 14 other competitors and ended up coming 3rd place in my class!!! I was thrilled, especially knowing I had done this ALL on my own without a trainer, made all my own suits, and without a gym membership.  It just goes to show you that if you are determined enough, you can always find a way to reach your goals!  Don't let anything stop you.
Thank you Cheri for sharing your story!!  You are an inspiration and have motivated me to kick up my own workouts a notch!!!  

 Congratulations on your accomplishment.  You are a Girl- Hero!!
What's your story?  If you would like to be featured as  Girl Hero email me at jenn (at) girl-heroes (dot) com  or don't be surprised if you hear from me.  😉
Hugs and High Fives,
Jenn
Pin It