St. Patrick's Day Peace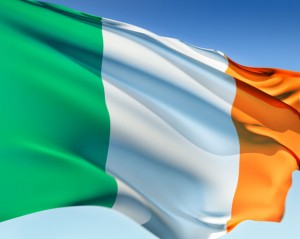 Today while reading about the history of  St. Patrick's Day with my children, I learned the meaning behind the Irish flag.  The green and the orange symbolize opposing cultures while the white stands for the hope of unity, of peace.
Peace.
In my life there is division.  Two sides of me warring against the other.  I certainly don't mean to trivialize the tumultuous history of a country nor do I mean to equate my small trials to those of  a nation.
The meaning of the flag simply moved me to a place of personal reflection.  I want to exist in the white, that place of hope.  I want to exist in peace and harmony within myself.  I want to silence the internal conflict, the perfectionism, and the out of reach expectations.  I want to shut the door on the all or nothing thinking that too often dominates my mind.  I want to call for an inner "truce".
Hope you had a good St. Patrick's day!  I'm partially Irish and the only thing green I ate was some lettuce.  :-O
Hugs and High Fives,
Jenn
If you enjoyed this this post please Subscribe to the RSS Feed.
Sign up for up to have posts emailed to your inbox.
Pin It