Lemon Chicken Kebabs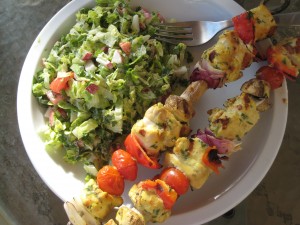 It's almost summer time. Yippeee!!!! Not only does summer mean evening walks and trips to the beach (or pool), but BBQing! Yum. Yum. YUM. This recipe goes perfectly with my Middle Eastern Chopped Salad. And the chicken makes fantastic leftovers.   Maybe one of these days I'll cook something other than chicken.
Lemon Chicken Kebabs
8 boneless skinless chicken breasts – cut into 1″ cubes
juice of 2 lemons or about 4 tbs (If you want to lesson the lemon a bit just use 1 lemon or 2 tbs)
2 tbs olive oil 1/4 cup parsley finely chopped
1/8 tsp turmeric red bell pepper – cut into chunks
white mushrooms cherry
tomatoes
onion – cut into chunks
Mix the lemon juice, olive oil, parsley and turmeric in a bowl. Add the chicken and if you have time let in marinate for a while (or overnight). Skewer the chicken and vegetables. Grill for about 10-15 minutes turning frequently to keep the chicken moist.
Makes 8 servings with approximately 279 calories, 43 protein, 6 grams carbs, 8 grams fat per serving.
Here is a picture my own personal grill master and love of my life.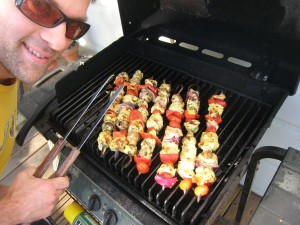 I hope you are having a good week.  I have PMS but managing.  It doesn't hurt that I took down the mirror in my bedroom!
Love you guys!
xoxo
j
Pin It