Fluffy Friday – My Top 5 Fit Celebrity Bodies List
I'm mentally exhausted after a long week and in need of little fluff.  Mind fluff that is.  I'm not talking to you, fat cells, so don't get any ideas.   For Fluffy Friday I put together my list of Fit Celebrity Bodies.  This is clearly subjective and I recognize that most celebrities look fantastic but these are women who I wouldn't consider "skinny fat", who look like they've actually picked up more than a 5 pound weight, and eat.
My Top 5 Best Celebrity Bodies List (in no particular order)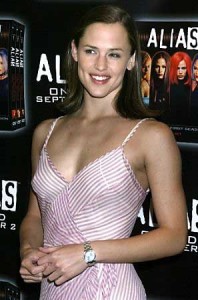 Jennifer Garner – She's lean but not crazy lean and she clearly works out.  Beautiful arms and smile.  Plus she seems down to earth which is cool.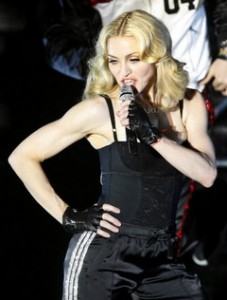 Madonna –  I know.  I know.  "She looks like a man."  Yadda yadda yadda.  Sometimes she looks a little too lean but she clearly works out and works out hard.  And she's 50 years old! If you've seen the Music video (the one where she's wearing the groovy bubblegum colored leotard) you know she has great legs as well.  I don't think she would make my down-to-earth celebrity list though. Oh and lose the track pants with the bustier but knowing Madonna I'm sure she did.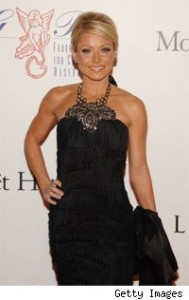 Kelly Ripa – Another controversial celebrity body.  She too also has been criticized for being too lean but over all I think she looks much better now she's put on muscle.  Check out those gorgeous shoulders!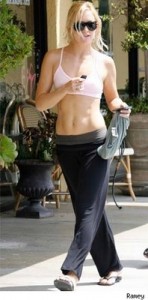 Kate Hudson – I couldn't decided between Kate Hudson and Cameron Diaz.  She's not as cut as the others but I still think she look great.  I also love that there are always pictures in the media of her surfing, running, biking, and playing tennis.  She seems to really enjoy the outdoors.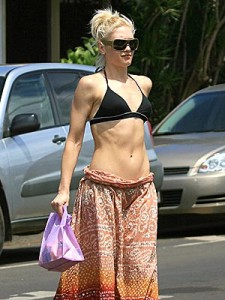 Gwen Stefani – Probably one my favorite celebrities because I love her unique style of glamour and tomboy. How can you not love a girl who wears cargo pants and bright red lipstick.  Years ago, I saw her at Lalapalooza before No Doubt became huge. She was jumping all over the stage with the endurance of an elite athlete singing Spiderwebs wearing a sports bra and the cargo pants.  I've loved her ever since.  I just think she's cool.
Had I made a Top 10 Fit Celebrity Body list I would have included Jessica Biel, Jessica Alba, Hilary Swank, Cameron Diaz and Jennifer Aniston.  Who are your favorite fit celebrities?
Have a great weekend.
Hugs and High Fives,
Jenn
If you enjoyed this post please Subscribe to the RSS Feed.
or
Sign up to have posts emailed to your inbox.
Pin It