Mismatched Russian Nesting Doll
11 weeks out at 125.  It's the thighs once again.  Always the thighs. It's so much fun being a mismatched Russian nesting doll. Humpf.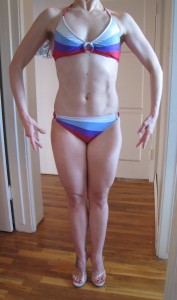 I've been agonizing for days on wether or not to post this picture.  Okay, so I don't think I look bad.  (However, I did cut my head out for a reason.)  But honestly it's slightly embarrassing to not have maintained since my October pictures. But that's life.  And I'm all about being real.  Which brings me to this thought. I know it may seem like I want people to look at my pictures. I do have them sprawled across the top of my blog. But that is NOT the case.  So please be nice.  

Because frankly, it's somewhat humiliating. I'd much rather have only nice photoshopped pictures of myself looking my best (and maybe a tan) instead of what I looked like a year ago.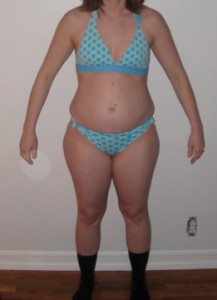 But I  know I am motived by people who change their bodies through hard work and discipline not the genetically gifted (I'm not) or the photoshopped.  So there you are 11 weeks out from my competition and 9.5 pounds to go.  Americans just love before and after pictures.
xoxo
j
Pin It