Who does this???
I was at a The Corner Bakery Cafe in Burbank the other day and saw on the table behind me two unfinished desserts.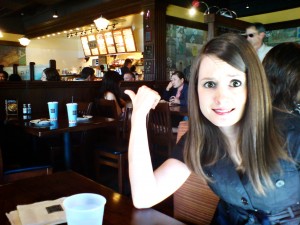 "What in the world??"
Here's a close up.  Yes I looked like a freak getting up and taking pictures of people's uneaten food.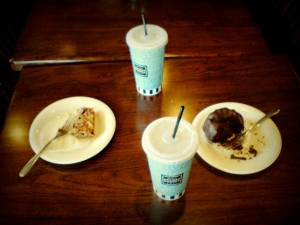 Two half eaten pastries. Who does this???  Actually there is more than half of the chocolate one .  I could never do that.  One, I don't have that sort of will power.  It's easier for me not to order unhealthy food and then to order it and only eat a bite or two.  Which is related to reason number two.  I'm frugal.  Yeah, I'd be thinking about the $4.75 and feeling like I didn't get my money's worth if I only ate two bites. 
I really wish I could talk to the two-bite-pastry-eaters and find out what they tell themselves so they can get up and leave the pastries without crying.
How are you doing on reaching your goals?  Getting closer?  Making excuses?  I've gained a couple of pounds. It could be just PMS but I betting it is a combination of PMS and peanut butter.  I'm putting a stop to that today.  Peanut butter is amazing but not as amazing as feeling fit and lean and if I don't address this little issue it could spin our of control.  So I'm going to go back to measuring for a few days to get back on track.  What do you need to do to maintain or reach your goals?  Remember your not on a diet you're living your life.  What sort of life do you want?  
You guys are the best!  Have a great day!
xoxo
j
Pin It