A Strong Little Piggy: Compound Exercises vs. Isolated Exercises
"I'll huff and puff and I'll blow your house down."
So the wolf huffed and he puffed.  And he puffed and he huffed but he could not blow the house down.
Why? Because it was a house of bricks set on a good foundation. Or maybe the wolf smoked 2 packs a day and didn't have the lung capacity to blow down the house.  I like to think it was the house. Either way, I want to talk about building strength training workouts on a strong foundation.  A way to build a strong foundation is to focus on compound exercises as opposed to isolated exercises.  Compound exercises are multi-joint exercises that engage more than one muscle or muscle group at a time.  A few examples are squats, barbell rows, pull ups, push ups, deadlifts, bench presses, and lunges.  Isolated exercises are single joint movements that focus on one muscle or muscles group at a time.  An example is a bicep curl or a tricep kickback.  Most machines at the gym are isolated exercises.  Here are a few reasons to focus on compound exercises.
1. You'll burn more calories.
2. Compound exercise movements mirror real life movements more than isolated exercises.  For instance you are more likely to use a squatting motion to hoist up a toddler than to "curl" your toddler up to you. Some call this "functional fitness", a current buzzword, I'm sure you've heard.
3. You'll improve your coordination and balance while getting stronger quicker.
4. Compound exercises engage more muscle fibers consquently getting more muscle growth than isolated exercises.
5. They will save you time by working more muscles at once.
6. Most, if not all, engage your core to some extent.  When you are sitting in a machine you are being supported by the machine.  Machines work for people with really weak cores or injuries.
7. Compound exercises keep your heart rate more elevated therefore you get more cardiovascular benefit from compound exercises verses isolated exercises.
These are just a few of the reasons I can think of off the top of my head.  I know there are more and there are more scientific explanations as well. Feel free to add to the list.  So what does this mean?  Should you only use compound exercises?  Note necessarily.  At least not in my opinion.  Like I said, I like to start with compound exercises as a foundation for my strength training program.  I like to "fine tune" or "accent" my program with isolated exercises.  For instance I'm trying to add some definition/size to my upper body so I my include bicep curls, tricep kickbacks, and lateral raises, ect.  But I'm using those in addition to my compound exercises which predominately make up my workout.  And isolation exercises are a great way to help restore balance to a particularly weak body part, especially if you are recovering from an injury.  Some isolations, like bicep curls, are simply fun to do which is a good reason to still do them in and of itself.
So if you want to help keep the big bag wolf from blowing down your house, build with compound exercises and decorate with isolation exercises.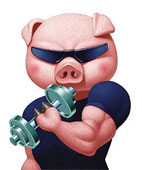 xoxo
j
Pin It