Really?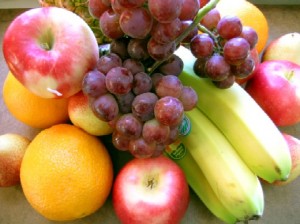 I'm cool with fruit but sometimes I'm not cool with the advice I read.
The other day I was reading a popular women's health magazine and saw an article on how you shouldn't eat after a workout instead you should wait until you are hungry to eat.
Hmmmm???  Really?  Even after a workout?
Occasionally, I wonder if some magazines give out bad advice on purpose because they want their readers to stay fat. If their readers lose weight then they won't feel bad about themselves and feel the need to buy all the stuff advertised…no?  Hopefully I'm wrong and this was just well-intended but less than awesome advice.
If you have worked out and I mean worked out not strolled for two miles then your muscles need food for recovery so they can grow. Yes, you want them to recover and grow. You will not end up looking like Hulk Hogan but you will speed up your metabolism which means your body will burn fat quicker or you can eat a little more without gaining weight.
As a more personal choice, I never wait until I'm hungry to eat.  By the time I realize I'm hungry I 'm usually starving. When I am "starving" I want that uncomfortable feeling to go away FAST so there is much more of a chance that I will shovel anything and everything in down the hatch.   Is it inconvenient?  Not as inconvenient as having to buy bigger pants.  It takes a little planning.  There have been days when I have to take the kids to school, run errands, drive to LA for an audition, pick the kids up and then go to Bible study that evening.  In other words, there have been days I might as well sell my house for a Winnebago.  On days like that I'll pack a lunch bag with chicken (that I pre-cooked over the weekend and then froze), a can of Bumblebee's Tuna Sensations, raw green beans, an apple or two, a string cheese, a yogurt, a protein bar, and a cucumber.  Then every 2-3 hours I'll eat a protein and a fruit and/or veggie.   No these are not the most exciting meals but the reality is I can't drive up to McDonald's and order a cheeseburger every 2-3 hours and expect to LOSE weight.  I find it more convenient, healthier, less expensive, and LESS TEMPTING to pack all my food.  My point is I PLAN AHEAD a little so I don't feel like a ravenous beast by the time dinner rolls around and eat a bowl of pasta the size of my head.  Which I've done.
Hugs and High Fives,
Jenn
Pin It