I'm expecting!
Sextuplets!
A curious thing is happening. Although I'm not losing very quickly, if at all the last few weeks, and my measurements haven't changed, some sweet little sextuplets are about to be born. I think I'll call them The Abbeys. In other words, in my opinion (and that is the ONLY opinion that counts!) my abs are looking more defined.   I'm really excited about it.  
Here they are and I like them.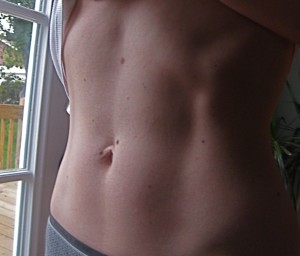 Progress.  This IS serious progress.  Considering I used to be a body-hater and often still have body dysmorphic struggles. In the past I spent hours decided on how I could save enough money to get a tummy tuck or liposuction.  Who know it would only cost some sweat, discipline, and a good amount of chicken and broccoli.
It's been a long time since I've said something nice about my body.  Like 10 years.  And it feels nice not arrogant.  It makes me feel like a slightly more mentally healthy person so I'm going to say it again.  I'm happy with The Abbeys! The Abbeys are my friends! I hope you make friends with your body today too!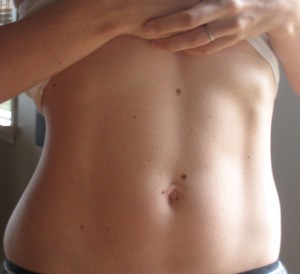 xoxo
j
If you enjoyed this this post please Subscribe to the RSS Feed.
Sign up for up to have posts emailed to your inbox.
Pin It